Braintree Christmas markets hailed a festive success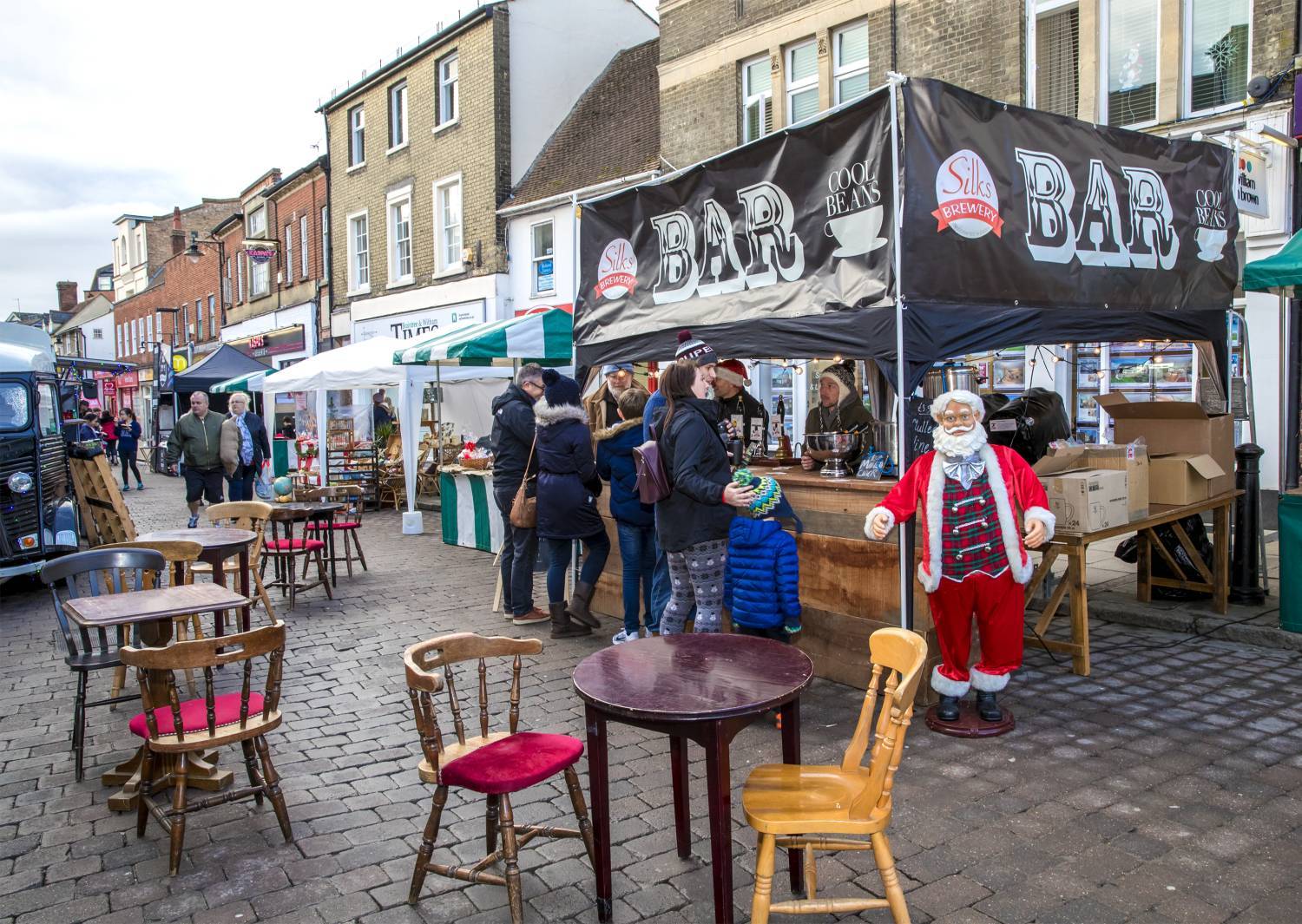 Christmas markets hailed a huge success as Braintree welcomed hundreds of shoppers and visitors to the town centre over the festive period.

Published: Tuesday, 2nd January 2018

The event, which took place on the first four Saturday's in December, saw residents and visitors flock to browse the stalls, enjoy the festive food and drink on offer and buy some unique gifts for their loved ones.

The Christmas-themed markets brought in an additional 25 new stall holders on top of the regular market traders. Traders also came together on the last day to create a food court area which received great feedback from residents.

Businesses spoke out about how fantastic the market was this year.

Dan Radmore from The Bradford Street Meat Company who traded at the market, said they were "extremely proud to be part of this year's Festival of Christmas".

He said, "It has been an amazing opportunity to feed the people of Braintree and beyond and it was so exciting to work alongside the town's local businesses. The feedback we received from the locals was superb – we were told on several occasions that the buzz of the market brought life back into the town and gave a London food market feel, which was music to our ears.

We hope that the food market could possibly become a permanent fixture to our town and we look forward to feeding up Braintree Town for many years to come."


Jill Lawrence from English Spirit Distillery, said: "We had a great time attending the Braintree's Festival of Christmas. There was a lovely atmosphere and everyone seemed to enjoy sampling our spirits and liqueurs. We would definitely attend again if there was another one next Christmas."

Victoria Wicks from The Gin Hand, said: "For us, what made the Christmas market a success, was how friendly the local people were and the support of other traders and shopkeepers. We have not been to such a welcoming event and we really hope to take part in other popup markets in the summer."

Marita Holland from Nonna's Pizza & Grill, said: "As a local business, Nonna's were proud to be part of Braintree's Festival of Christmas. It was a wonderful opportunity to serve new and returning customers and to work alongside and support other local businesses. We have received tremendous feedback and hope to be back in the town centre on a more regular basis!"

Councillor Tom Cunningham, Cabinet Member for Economic Development at Braintree District Council, said: "I am so delighted that the Christmas markets, as well as our whole Festival of Christmas offering was a success and encouraged many shoppers and visitors into the town. Improving our town centres is very important to us and that's why we are continuing to work hard to unlock our town centre's future potential as a modern, vibrant and prosperous place."

As part of the Festival of Christmas in Braintree, over 100 children took part in the magical reindeer trail which followed the story of Father Christmas' reindeer going missing while shopping for presents in the town and needed the help of children and families to find them in time for Christmas.

Hundreds turned-out for Braintree's annual Christmas light switch-on event which saw live entertainment from Heart Essex Radio as well as featuring rides, festive markets, games and competitions for families to enjoy.


Did you enjoy the Festival of Christmas in Braintree or have any ideas for what we can do better this year? Write to ecodev@braintree.gov.uk and let us know your thoughts.