Decoration and recipe ideas
Decorations
In the run up to your street party, part of your committee should take responsibility for decorations.
You may want to ask neighbours to decorate their windows and front gardens and you could even create a competition element.
Why not put together a sewing or knitting circle to create bunting, banners and decorations for the event? It's a great opportunity to socialise and work together or a project people can work on individually and join together ahead of the big day.
Anybody handy with DIY or woodwork could help create other decorations and elements for the big day, artists could create murals, it's a fantastic opportunity for people to tap into their talents and hobbies to brighten up the street for their celebration.
When hanging decorations, you can use street furniture in most cases, but be careful when working at height. It is worth having someone on your committee responsible for overseeing health and safety.
View a guide to making fabric bunting
Jubilee recipes
The classic afternoon tea is perfect for a very British street party, we've asked two local businesses famous for their bakes to share a jubilee recipe.
The Booking Hall Café's Cherry and Coconut Jubilee Scones
Easy homemade scones for all the family, cherry and coconut is a winning classic combination and provides a special treat for the jubilee that will perfectly compliment the jam and cream.
Prep time: 15 minutes
Cook time: 30 minutes
Makes: 12/16 scones
Ingredients:
900g self-raising flour
200g butter
200g soft brown sugar
568ml buttermilk
150g desiccated coconut
80g Glacè cherries
Pinch of table salt
Vanilla (optional)
Method:
Preheat your oven to 220/200 fan. Lightly oil a baking tray and place some parchment paper on the tray. (The oil helps crisp up the bottoms).
Put the flour, salt and butter into a food processor and pulse until you can't feel any lumps of butter. We prefer to rub in the butter by hand, don't worry if you see little lumps of butter, pulse or mix in the sugar.
Gently warm the buttermilk and vanilla in a microwave or pan.
Using a large bowl, quickly tip in some of the flour mix, followed by some of the buttermilk mix, repeating until everything is in the bowl. Add the rest of the ingredients.
Use a table knife to quickly mix together to form a dough, it's important to not overmix it!
Pour onto a floured surface and lighting bring together with your hands a couple of times. Press out gently to about 4cm thick and stamp out rounds with a 6cm or 7cm cutter. Re-shape trimmings until all the dough is used.
Place them on your tray in rows, we leave one of the raw scone sides slightly near the other to help them rise. Bake for 15-20 minutes (if unsure, slightly pull one apart to check the inside).
Eat and pat yourself on the back
Baby Bakes' Jubilee Victoria Sponge
For a light and fluffy sponge that's incomparable to any shop brought cake, follow the steps closely, paying attention to detail on how to make sure you achieve a good rise, an even mix and undeniably fantastic Victoria sponge cake that will wow all.
Ingredients:
For the cake:
8 free range eggs
500g unsalted butter
500g caster sugar
500g Self-raising flour
200g Full fat yoghurt
1tsp vanilla bean extract
For the filling:
600ml double cream
600g icing sugar
Strawberry and Champagne Tiptree Jam
To decorate:
Fresh British strawberries
Method:
Firstly, leave all your ingredients out to come to room temperature. It will mix better for a creamier consistency.
Before starting, pre heat the oven to 140°C in a fan assisted oven. For non-fan assisted, turn this up to 160°C.
A handheld or stand mixer is best for this recipe as well as tall cake tins. Sandwich tins are too thin to create enough layers unless you're happy to bake many layers.
Using super soft butter (feel free to warm this in the microwave at 10 sec bursts. You want it to have a sheen and lose its block shape, but not runny or liquidated). Pop the butter into a bowl and beat on high for approximately 3-5 minutes until pale and fluffy. The yellow tones should've faded to an even white, keep going if not.

Next, add your caster sugar, eggs, vanilla extract and yoghurt, all into the bowl with your butter. Mix this together until completely combined but no longer. If it resembles scrambled eggs, your ingredients may have been slightly too cold, but don't worry, this shouldn't affect your finished bake as long as there are no lumps of unmixed ingredients.

Lastly, add your self-raising flour and mix this by hand, ensuring it is folded through completely. You want to avoid pockets of unmixed flour, but at the same time, don't over mix the flour too much. Over mixing causes a reaction which will change the outcome of your sponge.

Once finished, you should have a lightly coloured, creamy batter, which you want to divide evenly into 2 tins. Your tins should be greased or lined with non-stick paper.

Using the middle shelf of the oven, place both tins together if possible, otherwise, middle down. Not on the top shelf.

Keep an eye on your cakes, it should be slowly rising, if it rises very quickly, try to solve this by dropping the temperature slightly. The size of your tins will depend on how long they will require baking, as does the make of your oven and size.

After approximately 30 minutes, check the centre of the cake with a toothpick or skewer, if any batter shows, it's underbaked and needs to go straight back in. If few crumbs are present at all or clean, it is ready to come out.

Rest the tins for around 10-15 minutes, preferably on a wire rack. Knock the cakes out upside down being careful to not crack them. Use a flat plate or similar to aid this if needed. This will give you a flatter top on the cakes, meaning you won't have to trim them.

Once entirely cooled (don't be tempted to decorate while warm!), you'll want to make up the cream filling by whipping the double cream with icing sugar in a bowl on high. Once stiff peaks have formed, it is ready to use. Avoid beating it beyond this point.

Using a piping bag will give a more professional finish on your cake, but if you have none to hand, attempt to create a mini dam on the middle layer with your cream, to fill the hole with jam.

Add the top layer, slather this in your cream mix, dust icing sugar over the top and add fresh strawberries to finish.
Pro tip: Chill your bottom layer with the cream and jam for 20-30 minutes in the fridge. This will prevent your top layer sliding.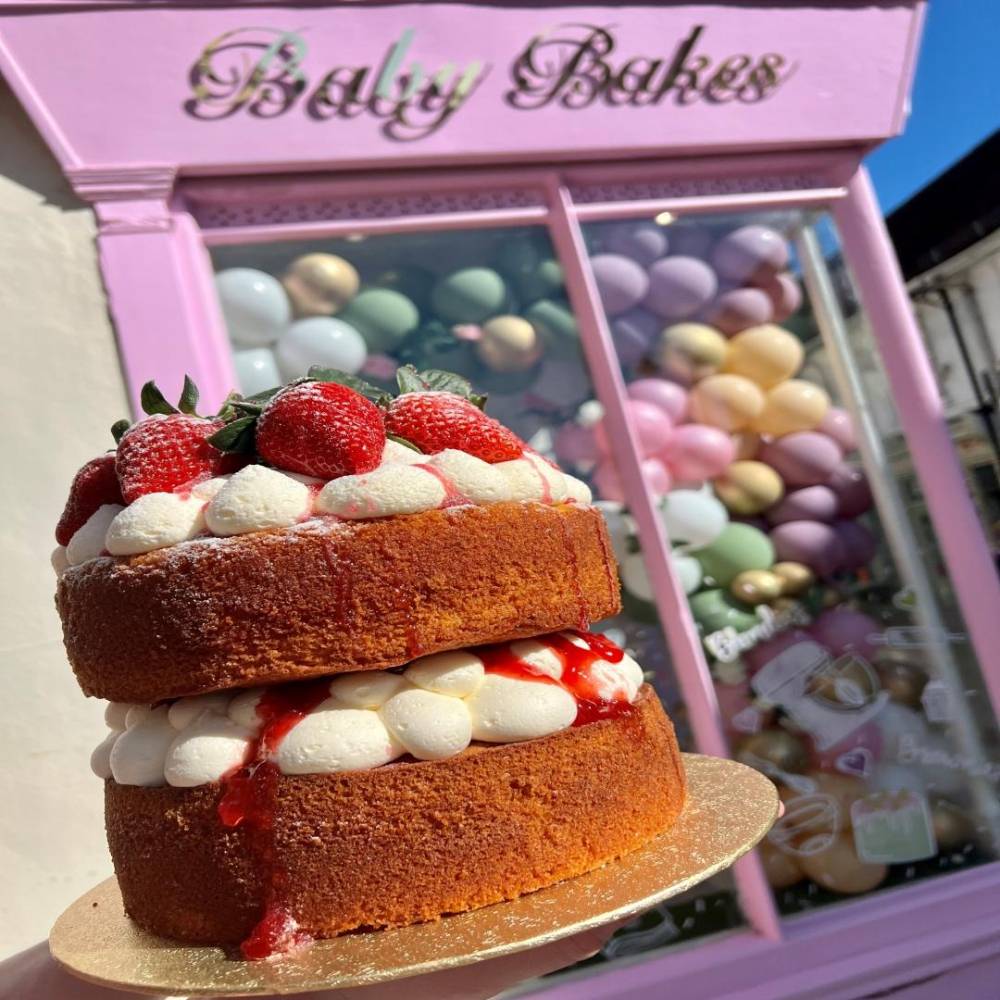 Tell us about your event
We would love to hear about your street parties and share photos of your event! Please contact us via marketing@braintree.gov.uk to tell us about your party and send pictures. Please get permission from participants to share photos and fill in our consent form.
Do you have photos or memories of past jubilee street parties? Or from the Queen's coronation in 1952? We'd love to share some classic photos of these celebrations in the district. Please send to marketing@braintree.gov.uk