Timeline of work
We are now transforming Braintree town centre into a new safe, flexible and traffic-free space to encourage people to visit and use.
We have planned the construction works in phases that will be complete soon.
As we progress through the town centre in a phased way this will mean that some elements of the town centre works will be completed much sooner. We are making considerable progress and many areas are now completed.
Phases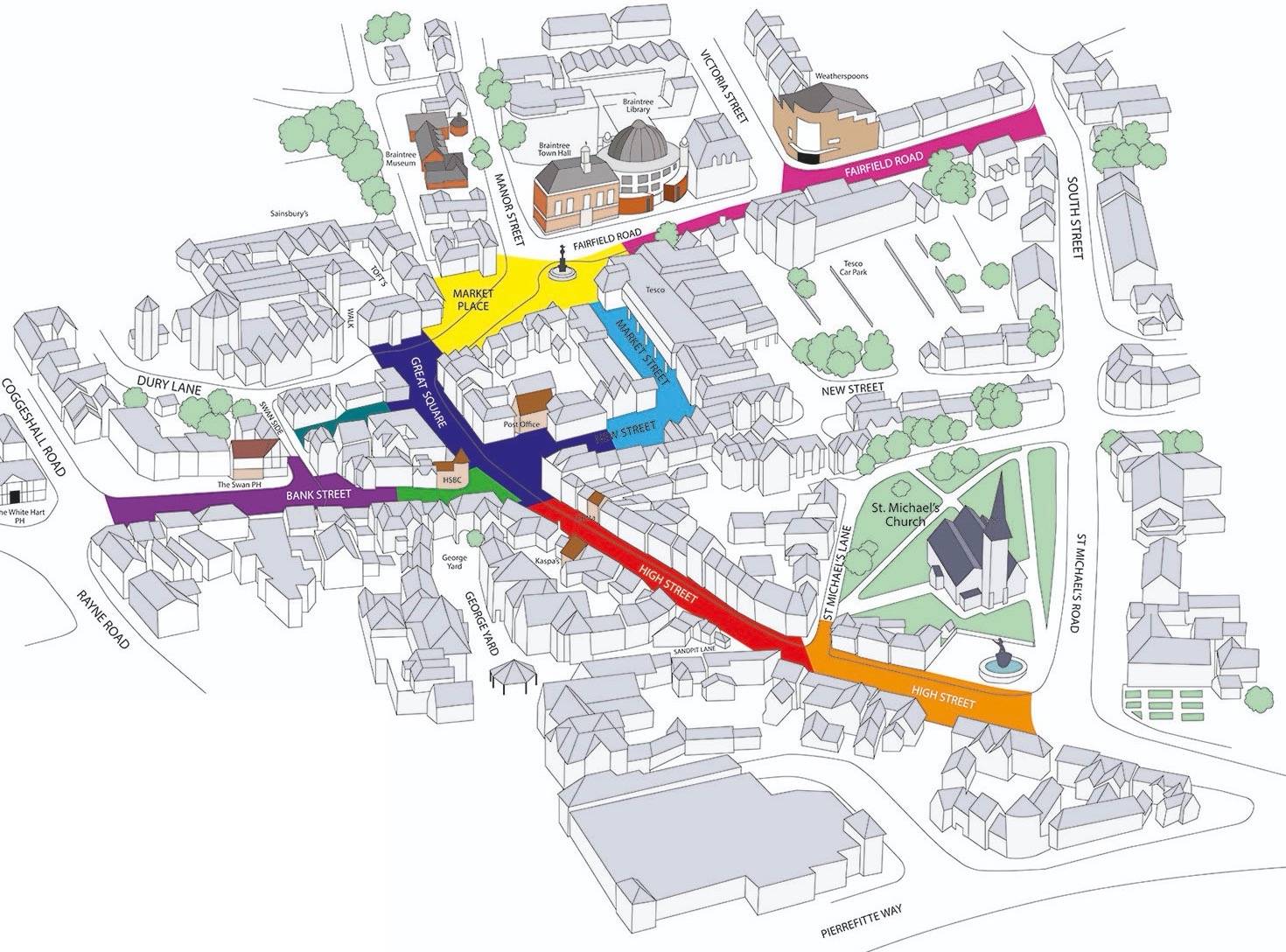 You can find below details of the latest upcoming construction work.
Whilst the majority of the construction work is now complete, there are various areas the contractor need to finalise and improve upon prior to handover.
We have identified areas that are subject to some snagging and they will be addressed during December.
The contractor will be looking at all areas at the end of the project to ensure all work is done to an acceptable standard before the project is completed.
Anglian Water works
Anglian Water are currently undertaking sewer repair work in the High Street/ St Michael's Lane/Sandpit Lane area and we understand they will be completed by 22 December. The activity has nothing to do with the pedestrianisation scheme. We expect the surfacing to be reinstated once works are completed.
Upcoming UKPN works
We have also been notified that UKPN are undertaking some electrical works near Bank Street. These works are unrelated to the pedestrianisation project. Utility companies have a licence to undertake essential electric works at any time in the area and we expect the surfacing to be reinstated once works are completed.
Street furniture and trees
The new litter bins have already started to be installed
5 of the new benches are starting to be installed and more will be added at a later date
A series of wayfinding signs will be installed across the town centre in the New Year
The final, permanent access gate at Bank Street and permanent bollard at the bottom of the High Street will be installed in the New Year
We will keep this page updated with any changes to the construction work programme from the contractor.
COVID-19
We have considered the impact of COVID-19 on the project.
We know people want to follow government guidance on social distancing. We will look to provide the safest practical route for pedestrians to use whilst construction is taking place.
We will place advanced signage on-site before any upcoming work. You should follow the local signage, especially where there is less space during construction work.
We will be in regular contact with residents, businesses and stakeholders who may be directly affected by the work at various stages of the project.
We will also update these pages and our social media channels with news and information on the project.
Change to contractor
We have decided to complete the remaining stages of construction work via a new contract.
Progressing the town centre works in a phased way means we will be able to complete some elements soon after our new contractor starts on site.
Keep up to date
You can email us if you have any questions about the pedestrianisation of Braintree town centre.
You can also get regular updates on news and progress on the scheme and the Victoria Square development by: