Schools
---
See how local schools are tackling climate change.
Want to know more about tackling climate change in our district? Sign up for our Business and Environment E-newsletter
---
Great Bradfords Junior School
Future generations are at the heart of our drive to tackle climate change. Great Bradfords Junior School is one of our local schools that is taking action.
In their video, listen to what the children have to say about their future, their home, and their planet!
Great Bradford's Junior School website
Honywood School

Kerrie is Head of Geography at Honywood School in Coggeshall.
During the United Nations Climate Change Conference week, known as COP26, Honywood School held a special Climate Change assembly for children to attend a LiveLesson. This was straight from COP26 via the AimHi Earth Climate & Nature School.
The children spent time discussing and learning about how climate change might impact them, other people, and places. They talked about what their role in creating and controlling climate change might be in their Geography lessons.
The children made a pledge, something they would do, or a habit they could change to help tackle climate change. They wrote their pledge on a brown paper handprint, to make a 'There's No Planet B' display, alongside large photos of Greta Thunberg and Sir David Attenborough.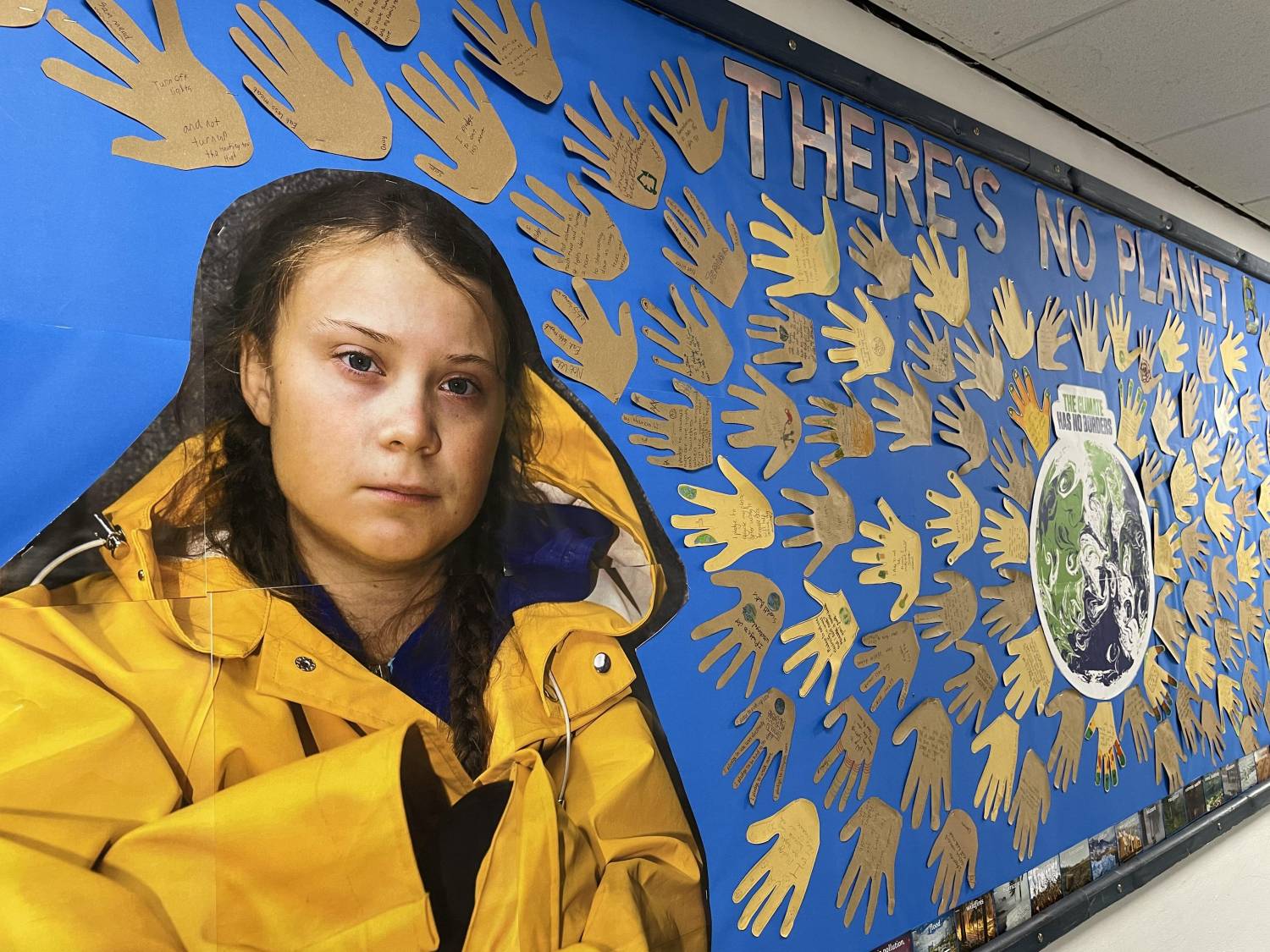 Creative Climate Challenge
We worked with Braintree District Cultural Education Partnership to launch the 'Creative Climate Challenge'. Schools across the District have been creating art showing how they feel about Climate Change.
Ten schools took part altogether and an event was held at Gridserve to celebrate and display the children's art.
All the children who attended the event were presented with a certificate as well as the schools.
You can watch a video taken on the day and hear what the children had to say. Below is a selection of their art projects.
Beckers Green Primary
Early Years Foundation Stage, Yrs 1 and 2 from Beckers Green Primary in Braintree worked together to create this fantastic Earth mural using old newspapers and magazines. Each child made a handprint which they then decorated and old magazines were used to produce this powerful message.
Gosfield School
Gosfield school took their Climate Change Challenge outside with Year Yr 2 & 4 creating a world map out of natural materials, and working as a team created this in under an hour.
Great Bradfords Junior School
Great Bradfords school worked collaboratively to produce a Climate Change Pledge to highlight how their small actions can make a big difference!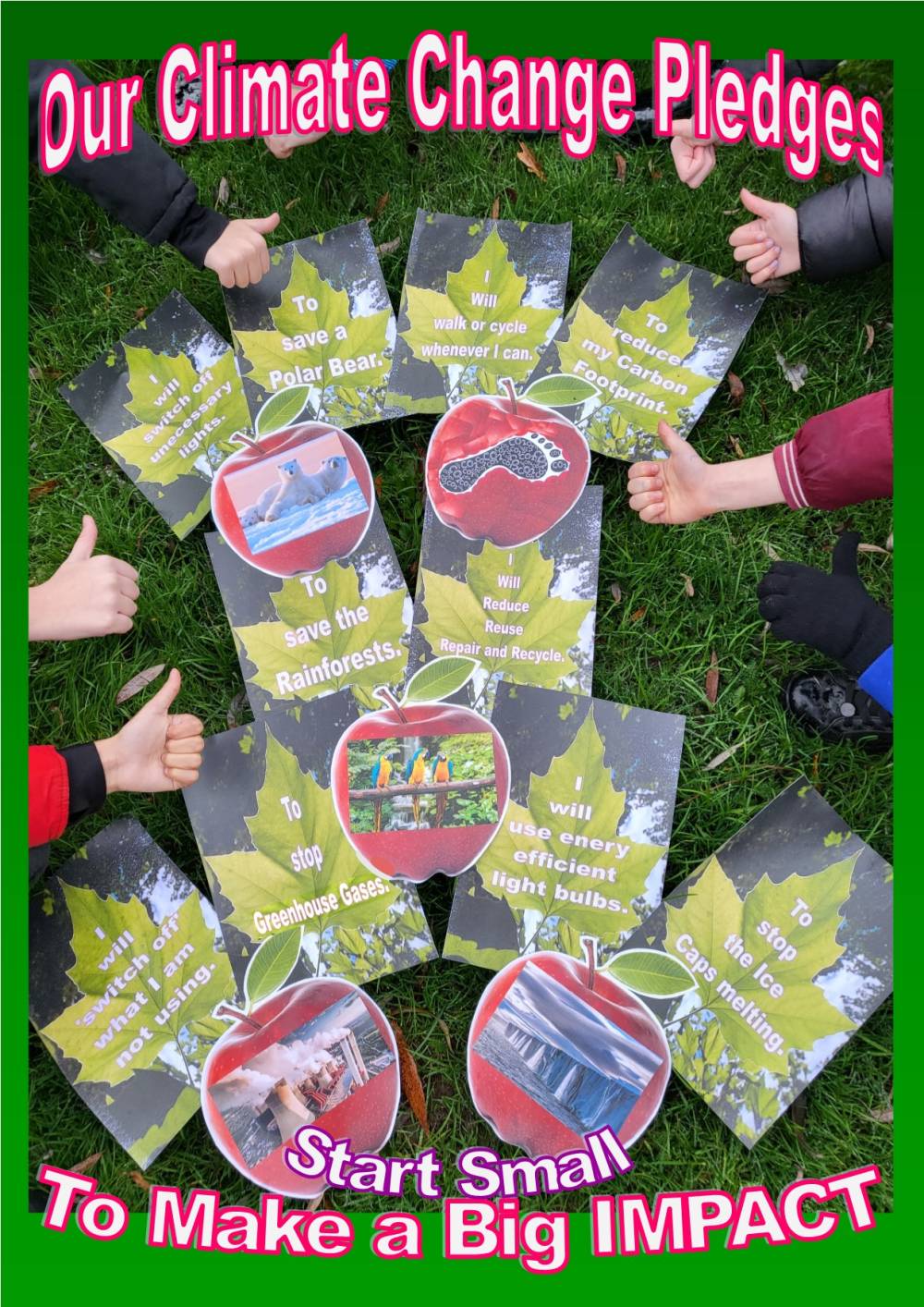 Holy Family School
Holy Family School took part in the Go Green Challenge and created this beautiful mural with handmade leaves depicting what they are going to do to slow down climate change.
They also created 'Message in a bottle' displays and celebrated Go Green Day!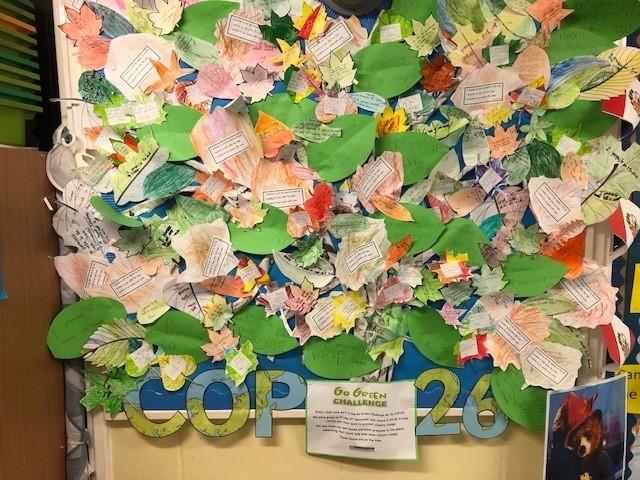 Honywood School
Honywood students produced variety of work to describe how they felt about climate change. From song lyrics to posters, artwork to mind maps they utilised different techniques to deliver a powerful message.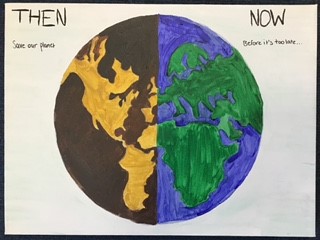 John Bunyan School
Year 6 Children at John Bunyan School worked together using watercolours to create this huge piece called 'The Destruction of the World' to depict the positive and negative impacts on the environment across the globe.
Year 5 pupils at John Bunyan school used inspiration from 'The Promise' to create work showing the bleakness of a world without nature compared to a world with birds and trees! The pupils used their own thumbprints to create the beautiful birds.
Nursery and reception children took their inspiration from a book called 'The Forest' to create these hybrid trees which are a mixture of the man made of the natural. The piece depicts the impact humans have had on nature.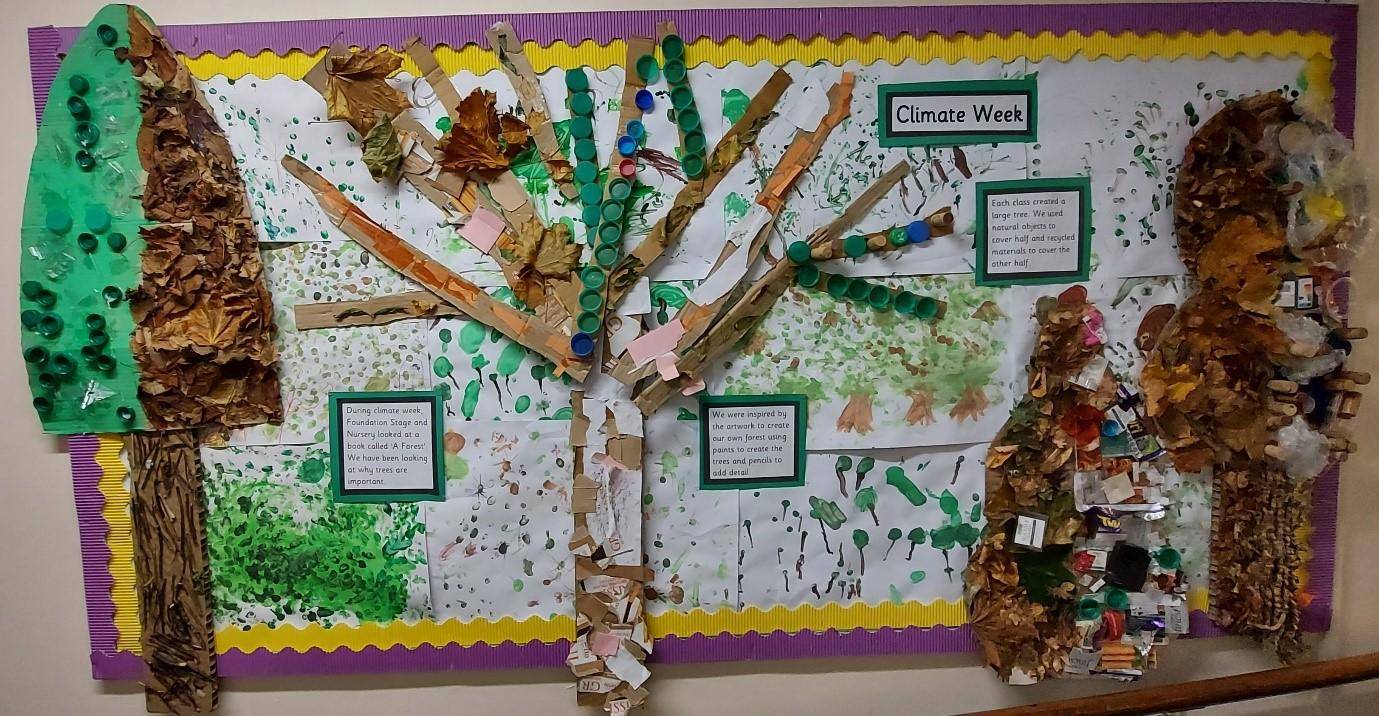 Notley High School - Braintree
Y7 students at Notley High have been working on a Recycling project for their homework over the Autumn term. They worked independently to complete various tasks including writing a letter to the Head teacher with ideas with how they could encourage recycling as a school and research into the effects of climate change.
They used their creative skills to produce newspaper articles about pollution and designing and creating a products from recycled materials. They also created a fabulous recycled pig, football stadium and pen pots.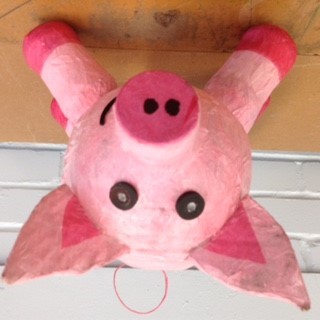 Powers Hall School
Children from Powers Hall School created collages using rubbish that was being thrown away, and created work depicting climate change through internet safety. 8 year old Xin from Powers Hall Academy created this poster depicting ways we can all make changes to address climate change.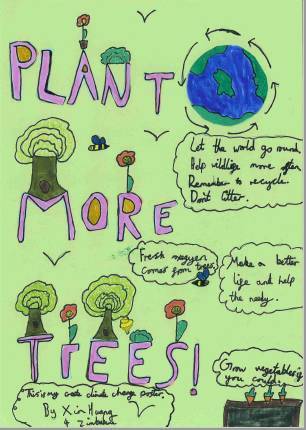 St Peters - Coggeshall
The whole school took part in the Climate Challenge. Each child and adult made a clay leaf as a pledge to look after the world. Stories were read and information about climate change was discussed. The leaves have been glazed and fired and displayed in a variety of ways.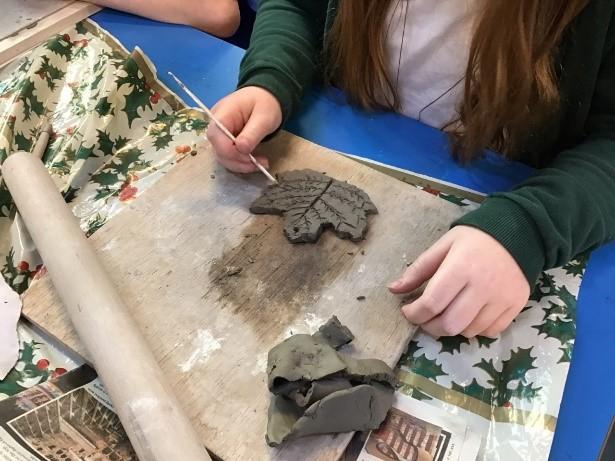 Wethersfield Primary
The whole school created this fantastic patchwork mural using recycled squares. Each child thought about what they treasured in the world, what threats there were and what solutions they could offer. This promoted great discussions in class around recycling, climate change and what's important to children in the world.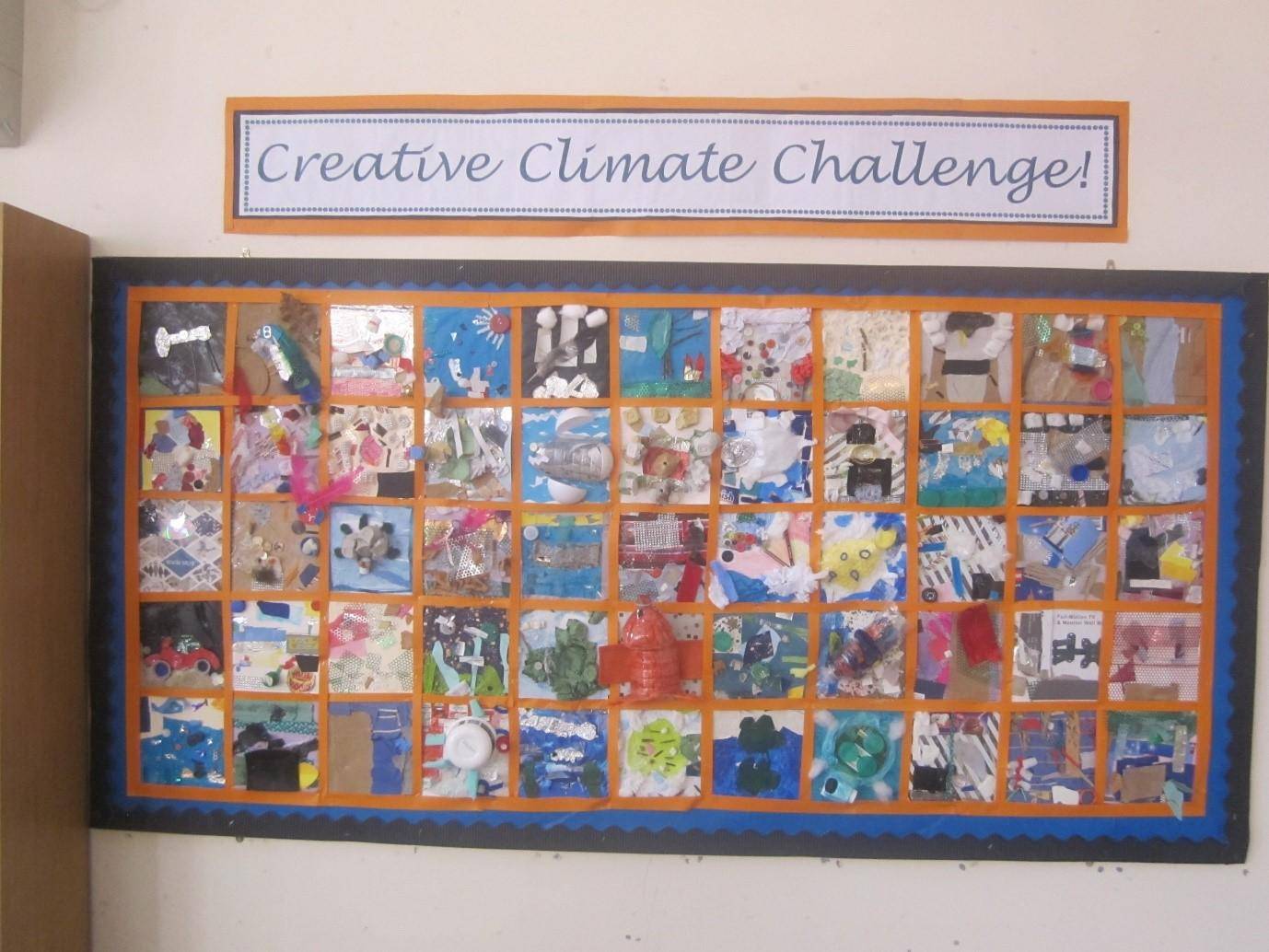 Issabelle Kent-Jackson and Hedingham School
Not many 15-year-olds get involved in the finer details of a school's contract with suppliers but that is exactly what Issi Kent-Jackson is doing to help ensure the school makes environmentally friendly choices.
The Year Ten student has been passionate about the environment from an early age. She started litter picking two years ago when she was fed up to see the mess created by those who drop litter.
The Hedingham School pupil is the school's Eco-Council Chair. She said: "I wanted to lead from the front, we have fortnightly meetings, discussions with outside organisations and meetings with the Headteacher."
Issi has been involved in making sure the school uses suppliers who are eco-friendly in terms of packaging and other green credentials. She has overseen the planting of 60 trees on the school grounds.
As well as identifying problems she also presents school staff with solutions. Recently she mapped out how many panels would fit on her school's roof, and she would love to see solar panels installed at the school.
Issi's biggest achievement to date has been her contribution to achieving Eco-school's status. The accreditation shows that the school is forward-thinking and promotes youth-led environmental education and action. It also acknowledges the hard work of Issi and her peers.
Looking to the future, Issi said: "We would love to improve our links with the community and get our name out there making our way one step at a time and eventually becoming a leading school for the environment in the Braintree district and in Essex."
Looking to the future, Issi would love to study environmental law with a dream of working in Australia.
Headteacher Andrew Harvison said: "I am delighted that Hedingham School has achieved Eco-school's status. This is well-deserved recognition and reflects all the hard work and effort by our student leader, Issabelle. Working alongside Miss Davie, Geography teacher, she has led the school Eco-Council and inspired many other students in the process. She has been proactive in many areas, for example, obtaining trees from the Woodland Trust, as well as recycling bins, and providing a 'litter picking' activity for all form groups.
We are currently working on securing solar panels for the school building. Issi represented the school in the Climate Change Conference in September last year and presented her Vision to local primary school Headteachers.
There is also lots more in the pipeline! Well done to Issi and her team for continuing to drive Hedingham towards a more environmentally friendly school and, more importantly, raising the awareness for the whole school community."
Councillor Peter Schwier, Deputy Cabinet Member with responsibility for Climate Change at Braintree District Council, said: "Issi is a credit to her school, it is heartening to see her vision for wanting to preserve our planet for future generations and she is already making a real difference to her school and the wider community. Huge congratulations to Hedingham School for achieving Eco-school's status. As part of our Climate Change Strategy, we are asking all members of the community to play their part to protect the environment."