Residents
See how local people are tackling climate change.
Want to know more about tackling climate change in our district? Sign up for our Environment E-newsletter
Enhance EHC Ltd
Miriam Henson from Enhance EHC Ltd cycles to work every day and has done so since she started work at her new office just over six months ago.

She manages to cycle off-road and on shared foot and cycle paths all the way from Braintree town centre to our workplace here in Great Notley.

The route she takes involves travelling beside the River Brain and along Tortoiseshell Way before taking London Road under the A120 and then the cycle path that runs from London Road (just before Cut Hedge) past Tesco. The journey takes about 20 minutes and is sometimes only marginally slower than taking the car when the traffic is heavy.

Miriam said: "I really enjoy my cycle to work…it sets me up for the day and helps me switch off after work in the evening. It's good for my health and it builds exercise into my daily routine, as well as gets me out into the fresh air and saves me from spending time and money at the gym.

Our company also has a cycle to work scheme which makes the cost of buying a new bike more affordable. The scheme is fantastic as it saves both the employer and employee money, so do ask your employer if they would consider running it."

People who cycle to our offices can use the cycle racks outside the café area, as well as the showers and lockers.

You can use Google Maps to plan your journey - select the cycling option and see which route it offers up or ask a local resident who cycles often to find the best route.

As the weather warms up, cycling to work may be an option well worth considering.

For more about the cycle to work scheme.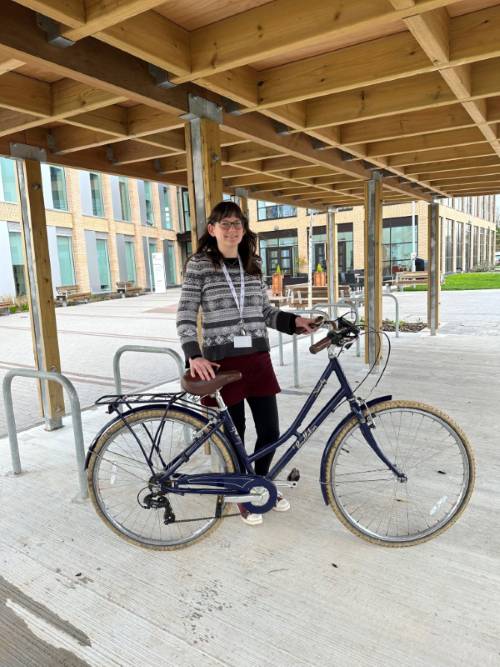 ---
Ollie says no to plastic
Ollie is very passionate about the impacts of climate change and the future of our planet. He wants to inspire everyone to do their bit to protect our environment by taking action now.
Watch Ollie's video to see what he has to say.
Jenny is calling on everyone to act now
Jenny is a local resident whose awareness about the dangers of climate change started 30 years ago. As a technology teacher, Jenny remembers talking to a class of teenagers and showing them a poster produced by Friends of the Earth. The picture showed a 'clock' representing known historical time, within a 24-hour circle. In that 24-hours, mankind had been on the planet less than 2 minutes and during that time had 'turned a paradise into a quagmire'. Since then, Jenny has been on a mission to reduce her carbon footprint and saving money along the way too.
Here's a few of Jenny's tips:

Household cleaning: Bicarbonate of soda, white vinegar, and lemon juice to clean virtually everything. Make a solution or just sprinkle the bicarb over and use water to wipe over with a reusable cloth made from cut up old towels.
Personal: Change to shampoo bars and soap as they tend to last longer. Try to buy conditioners and toothpastes that do not contain harmful ingredients. Refills shops have a variety of items available such as shower gel . One family member makes our own deodorant.
Saving fuel: I've cut down on car journeys and turn my heating down.
"We do not inherit the earth from our ancestors, we borrow it from our children. When I hear someone say, 'Oh well, I can't make a difference', my answer is always, "Well, believe me you can. No one person can do everything, but we can all do something!"