Getting ready for wider re-opening of town centres and high streets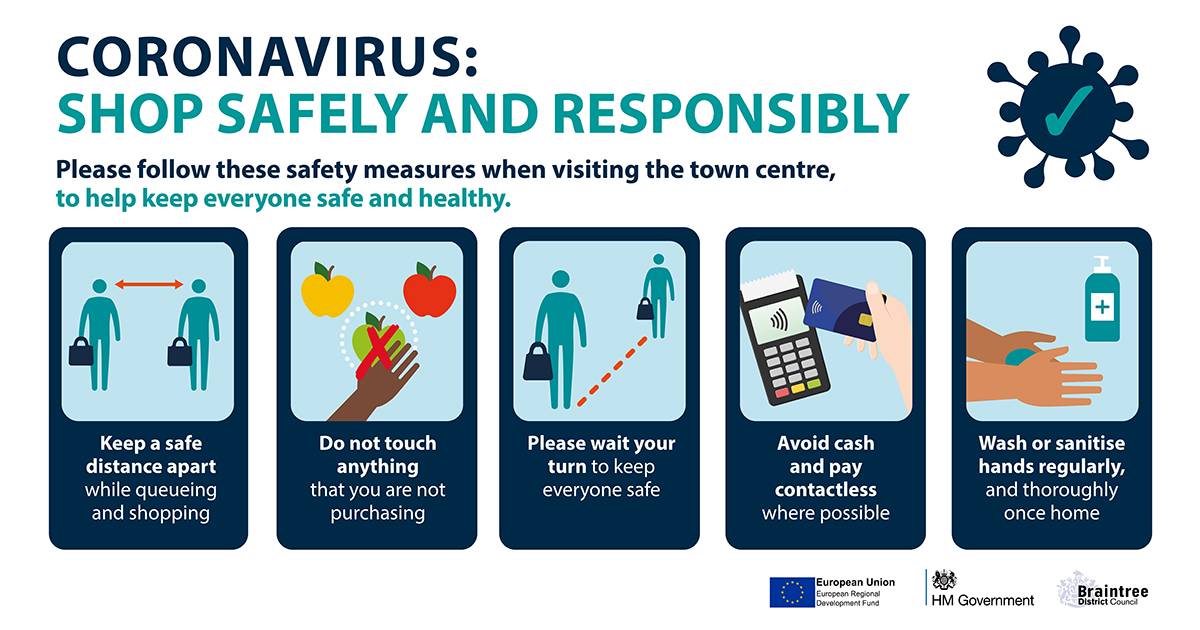 The government announceed that non-essential retail will be allowed to reopen from next Monday 15th June.

Published: Thursday, 11th June 2020

Braintree District Council has been working with local retail businesses, parish and town councils and partners to help support the safe re-opening of town centres and high streets for businesses and shoppers during the current coronavirus pandemic.

Measures will be put in place to help people move and shop safely, including floor markings around Braintree town centre to assist with safely queueing, social distancing, and to help guide people where to walk to ensure a safe distance from others.

Signage will be displayed, with the support of parish and town councils, to remind people how to shop safely and responsibly, including keeping a safe distance apart from others at all times, using contactless payments where possible and washing hands regularly.

As a way of supporting local retail businesses, a free support pack has been prepared by Braintree District Council with the government guidance on what they need to do to ensure a safe re-opening of their business, including posters to display in their shop windows.

The outdoor weekly markets in Braintree and Witham, which have now started to re-open in a phased approach, will see some changes to stall layouts to allow space around individual stalls for the safety of traders and customers.

The Council will continue to work with partners over the coming weeks to monitor the impacts on town centres and high streets, ensuring people are keeping safe and to identify if any other measures that may need to be put in place.
Councillor Tom Cunningham, Cabinet Member for Economic Development and Infrastructure, said: "Town centres have been hit hard by the coronavirus pandemic and we're pleased we're now able to take the first steps towards supporting the recovery of our economy. While we welcome this, our priority must be the safety of people visiting and working in our town centres. It's important we get the balance right. We all need to take responsibility to follow social distancing guidelines and respect the measures local businesses are putting in place to protect the safety of their staff and shoppers. We are committed to supporting local retailers and market traders to return to the high street, but it's still so important that if you do visit, please shop safely and responsibly."

James Sheehy, Town Clerk for Witham Town Council, said: "Witham Town Council has been pleased to support Braintree District Council's hard work performed to ensure that our town centres may resume business safely and responsibly. The Town Hall is assisting with distribution of key information to retailers provided by Braintree District and will be actively monitoring Witham Town Centre to help both workers and visitors with a smooth transition and help answer any concerns the public may have."

Sarah Greatorex, Town Clerk for Halstead Town Council, said: "Halstead Town Council has been pleased to observe that local residents have been extremely careful at all times to maintain the correct social distancing during lockdown, and are finding practical solutions to queueing now that more shops are open. Fortunately the wide High Street in Halstead in the main allows for sensible queueing, and local businesses are already consulting each other to accommodate queues."
For all the latest information on Braintree District Council's response to the coronavirus pandemic including changes and updates to services, visit www.braintree.gov.uk/coronavirus.
This work is being led and funded by Braintree District Council, with some extra support from the European Regional Development Fund as part of the national fund issued by the government.