Horizon 120 takes another step forward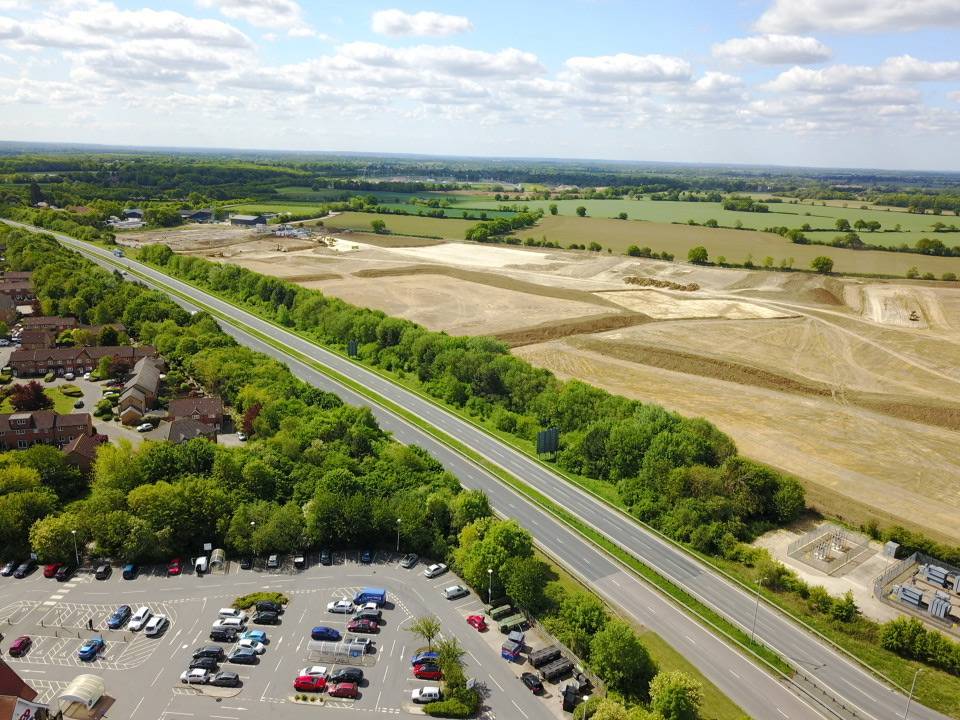 "I am delighted that we are now embarking on one of the largest and most exciting projects in our district."

Published: Tuesday, 26th May 2020

Construction works on the roads at the new Horizon 120 Business and Innovation Park in Great Notley is now underway.

Balfour Beatty is taking the lead on the build of two access roads and a central spine road on the business park site.

The planning for an entrance off of the Cuckoo Way roundabout, a second access point from the A131 to the south and a central spine road was given the green light at a meeting of the Planning Committee in February.

The Council bought the 65 acre (Horizon 120) site with a vision of creating an employment site fit for the future which attracts new businesses into the district and offers residents high quality jobs.

The business park will offer flexible business accommodation, state-of-the-art energy efficient buildings and electric vehicle charging points. A central hub area to the north could be home to retail units, a restaurant and a facility which offers childcare provision.

Horizon 120 is already attracting the attention of four well-established companies keen to relocate their growing businesses to the future-proofed site.

Proposals for the park also include the creation of a green environment where roads and paths are tree-lined with green buffers and wildlife corridors. Close to the central hub will be a habitat with ponds, tussock grassland, hedgerows and trees.

The ambition is to create a business community, where employees can go for a drink, drop their children off at childcare and enjoy a lunchtime walk or run in the Great Notley Park.

The employment site has the potential to create up to 2,000 jobs.
Cllr John McKee, Cabinet Member for Corporation Transformation at Braintree District Council, said: "I am delighted that we are now embarking on one of the largest and most exciting projects in our district. This is an investment that will benefit residents and businesses and our local economy. The modern employment facilities and the park's ideal location near the A120 will make Horizon 120 the place to do business now and in the future."
Balfour Beatty Project Manager, Steve Langford, said: "We are delighted to have started constructing the access roads at the Horizon 120 Business and Innovation Park, with works procured through the Scape National Civil Engineering and Infrastructure framework.

"The health, safety and wellbeing of all those who work with and for us, as well as the general public, is always our priority. All works are being delivered in line with UK Government's COVID-19 guidance in accordance with the Site Operating Procedures, endorsed by Public Health England.

"To support the local economy, we are utilising a local supply chain to create job opportunities for the local area and wider community."
Businesses interested in finding out more should visit www.horizon120.com.