Council gives artificial grass football pitch a new surface lift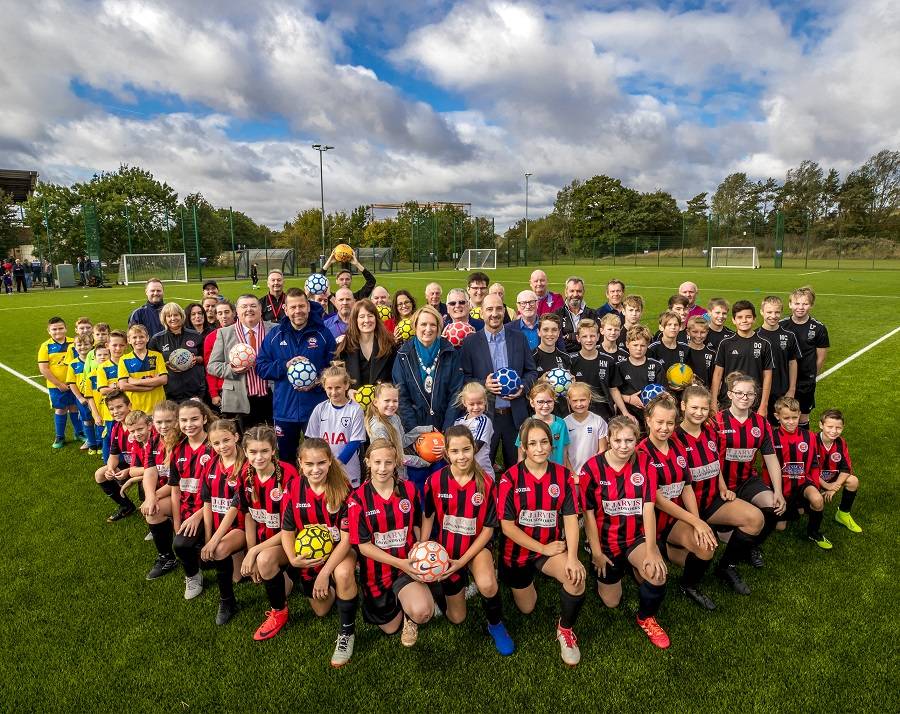 Enthusiastic players of all ages can now enjoy playing footy on a brand new artificial grass pitch at Great Notley Country Park after a £83,000 investment.

Published: Tuesday, 1st October 2019

The 3G surface which secured investment from Braintree District Council and Great Notley Football Club and stands for Third Generation, consists of an artificial turf pile laid over a rubber granule infill which is made from recycled vehicle tyres. The surface has been installed with football specifically in mind so players can enjoy the look and feel of a natural grass turf pitch, whilst the surface will withstand the toughest levels of full contact play, stud wear and sliding, all enhancing their enjoyment of the game. It is also recognised as an affiliated match pitch approved by the Football Association.

The pitch was officially opened on Saturday 28th September by dignitaries from both Braintree District Council and Essex County Council, Great Notley Football Club, alongside Community Iron, the independent charity affiliated to Braintree Town Football Club, followed by a walking football session and display match involving local youth teams.

Councillor Angela Kilmartin, Chairman of Braintree District Council, said: "It was a pleasure to welcome all the members from the local football teams and I would like to thank the organisers for bringing everyone together. It was great to see players of all ages enjoying themselves and how the resurfacing of the pitch has improved the spirit of the game. And I particularly enjoyed blowing the referee whistle at kick-off time!"
Councillor Peter Tattersley, Cabinet Member for Health and Wellbeing, said: "This artificial grass surface will be of great benefit to local and visiting football teams and clubs, school pupils, community groups and those who just want a fun kick-around. The new state of the art pitch provides a fantastic playing surface on which matches can be played, as well as tournaments and training."
Funded by Braintree District Council and Great Notley Football Club, the resurfaced artificial pitch will serve the needs of the community, including clubs in and from outside of the district.
Richard George, Chairman of Great Notley Football Club added, "We have been delighted as a club to have supported the renovation of this fantastic facility. Great Notley Football Club saw our financial involvement over the years as an opportunity to ensure the community continued to have a first class football pitch all year round which we have used over the years and enjoyed. This new pitch means we and others will be in a position of continuing to train and play football to the highest level in our case with the children of the local area."
Local schools, clubs and other organisations who would like to find out more about booking the artificial grass pitch can contact Braintree District Council on 01376 552525 or email csc@braintree.gov.uk