Volunteers recognised in third awards ceremony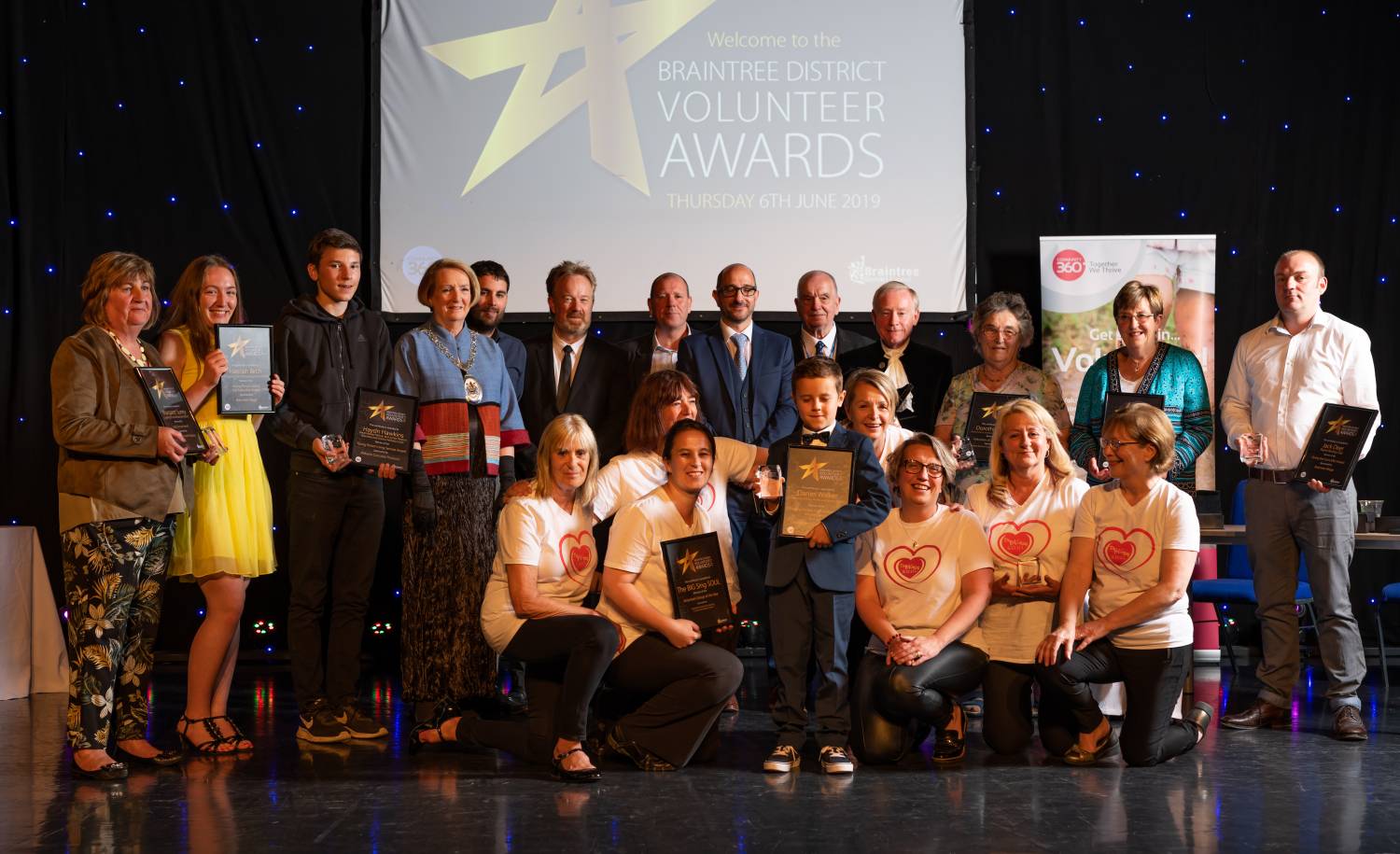 As part of National Volunteer Week volunteers across the district were recognised and celebrated at the Braintree District Volunteer Awards evening last week (Thursday 6th June).

Published: Monday, 10th June 2019

The annual awards, now in its third year and run by Braintree District Council and Community360, recognise and reward the extraordinary individuals and groups who are making a positive difference in their community and inspiring others.

A record-breaking 104 nominations were received this year showing the huge volunteering efforts taking place across the district. The nominations ranged from individuals and groups keeping the district clean and tidy, organising and leading local clubs, activities and events, raising money for charities, helping the elderly and running community centres.

For the first time, specific awards across the categories were introduced to recognise the contribution made by children and young people in the district.

Dorothy Lodge won the Inspirational Role Model and overall Volunteer of the Year, where volunteering is a huge part of her life. She volunteers for a number of clubs and organisations, including the Christ Church Lunch Club, Craft Club and Braintree Area Foodbank and even sells her plants to raise money for a local day care centre in Halstead. Her nominee said she "is a fantastic role model and a friend to everyone."

The Young Person Inspirational Role Model award went to Daniel Walker, aged 7 years who takes it upon himself to litter pick in and around Great Notley every weekend. Whilst doing so, he has raised over £1,000 for Farleigh Hospice in memory of his granny and has become a true local hero in his community. He is so passionate about the issue of littering that he has also approached his school head teacher wanting to highlight the dangers and facts about it to his fellow pupils.

The Long Service Award went to Margaret Surrey who has, for over 40 years, gone above and beyond for girl-guiding across the district. From organising trips, activities and sub camps, to keeping up with the new programme changes and trends and running regular meetings, Margaret does everything whilst having a part time job and running her own business.

Haydn Hawkins, who volunteers at Great Notley parkrun and junior parkrun, as well as Braintree and District Athletics Club, won the Young Person Long Service award for his dedication and commitment to volunteering for the third year running. Haydn has volunteered over 100 separate occasions for the parkrun in a range of different roles which has inspired others to do the same. He has started as a volunteer coach, helping supervise younger athletes on club nights.

Jack Deer walked away with the Going the Extra Mile award. Jack has been volunteering at Rayne Boxing Club for 10 years, giving up his evenings several days a week to help young children and adults with building their boxing skills, as well as giving up his weekends to take boxers to fights all over the country.

Hannah Birch, aged 16 from Halstead won the Young Person's Going the Extra Mile award for her commitment to organising and leading HAPPY (Halstead Action Promoting Positive Youth) which gives other young people a positive platform and purpose and to have a voice. As well as HAPPY, she has volunteered at her local library and helps organise local charity events.

Six members who formed a fundraising team in Witham's Big Sing Soul walked away with Volunteer Group of the Year for their commitment to the charity, all whilst working full time or having other family members to care for. They raised over £2,100 in the last 6 months which has enabled them to deliver projects in 5 schools, 3 preschools, a trip to their local care home and 1 rainbows group.

The awards were kindly sponsored by Braintree Village, George Yard Shopping Centre, Greenfields Community Housing, Community Gateway Group and Milbank Concrete Products.
Councillor Frankie Ricci, Cabinet Member for Communities, Culture and Tourism at Braintree District Council, said: "Our volunteers are the true unsung heroes of the district and hearing their stories and the pride they have for what they do is truly inspiring. These awards are important so we can say thank you to them for their dedication and support towards great causes and services that make a difference to people's lives. A huge congratulations to all our winners and highly commended, and also to our sponsors for helping make the awards happen."

Tracy Rudling, CEO of Community360 said: "We are so very grateful to all volunteers in the district and we have seen a huge increase in people contacting the volunteer centre and time bank who want to support their local community. Without them things would be very difficult for the charities and organisations that rely so heavily on their selfless commitment and dedication. Congratulations to all of the nominees, but thank you to everyone who offers their time to support their local community."
Winner details
Inspirational Role Model (sponsored by George Yard Shopping Centre)
Adult Winner: Dorothy Lodge
Adult Highly Commended: Tina Townsend and Colin Johnson
Young person Winner: Daniel Walker
Young person Highly Commended: Max Davies
Long Service (sponsored by Millbank Concrete Products)
Adult Winner: Margaret Surrey
Adult Highly Commended: Ann Read and Arthur Spackman
Young person Winner: Haydn Hawkins
Young person Highly Commended: Bobbi Field-Mullins
Going the Extra Mile (sponsored by Braintree Village)
Adult Winner: Jack Deer
Adult Highly Commended: Gemma Aldridge
Young person Winner: Hannah Birch
Young person Highly Commended: Joshua Malcolm
Volunteer Group (sponsored by Greenfields Community Housing)
Winner: The Big Sing Soul
Highly Commended: Braintree Foodbank and Friends of Bocking Blackwater Nature Reserve
Volunteer of the Year Award (sponsored by Braintree District Council and Community360)
Winner: Dorothy Lodge