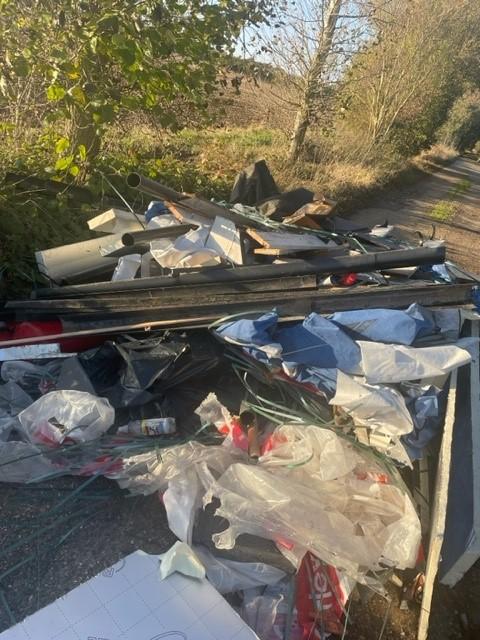 Braintree District Council is asking residents for any information that can be used as evidence regarding a fly tip.
On Wednesday 25 October, Braintree District Council received numerous reports of a large amount of waste that had been illegally dumped which was blocking Howbridge Hall Road, Witham CM8 3HY, and is appealing to residents to share any information they may have to assist with their investigation surrounding this incident.
The Council's Street Scene Protection Officers visited the location and a member of public kindly helped to push the waste to the side of the road so residents could access their properties. The following day the council's Street Scene Rapid Response Team returned to the location to clear all the waste.
So far, some evidence has been found which the council's Street Scene Protection Team is investigating, however they are appealing for any further information that may help catch the perpetrator/s responsible for committing this offence. The vehicle involved is likely to be a tipper truck carrying building type waste.
Cllr Tom Cunningham, Cabinet Member for Transformation, the Environment and Customer Services, and Deputy Leader at Braintree District Council said: "We are very grateful to our residents who reported this fly-tipping incident to us, so we could act quickly and start our investigations.

We have a zero-tolerance approach to fly-tipping in our district and we will always respond to reports received within 24 hours to remove the waste. Our Streetscene Protection Team will investigate every report received in an effort to identify the perpetrator/s who illegally deposit waste and will take enforcement action including issuing fixed penalty notices and prosecuting as appropriate against those who have no respect for the environment."

"We ask everyone to be vigilant and would like to remind householders of their 'Duty of Care' to make sure any third-party removing waste from a property is authorised to do so and disposes of it in the legal way.

Before allowing your waste to be removed, always ask to see the third-party's Waste Carriers Licence issued by the Environment Agency. The Environment Agency has a free online tool that enables householders to check that the third-party has a bona fide certificate."
If anyone has seen or heard anything about this particular incident or in the future see any suspicious activity, please SEE IT - REPORT IT to Braintree District Council by email: Streetscene.enforcement@braintree.gov.uk or call their Customer Service Centre on 01376 552525. Dash-cam footage and photographs are always welcome too. Information received will be treated in the strictest of confidence.
Residents can use the council's web site to report a fly tip and also link to the DEFRA web site to search the Environment Agency's 'Register of Waste Carriers, Brokers and Dealers' to check if the removal company holds a waste carriers licence at: https://www.braintree.gov.uk/flytipping