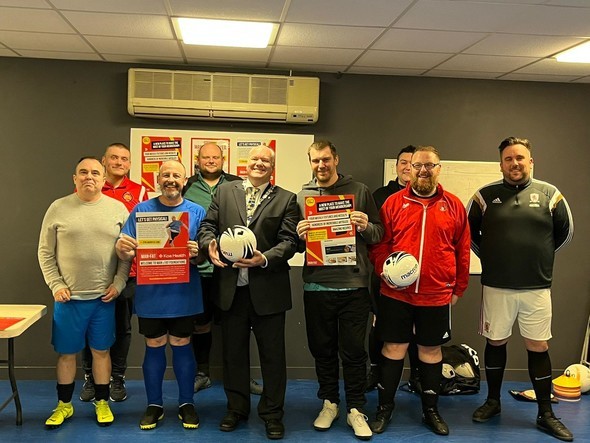 Weight loss initiative MAN v FAT Football has been going from strength to strength since it first started in Halstead at the beginning of 2022.
The club now has four teams and runs regular training sessions on Friday nights at Halstead Leisure Centre.
MAN v FAT Football offers a unique approach to weight loss and fitness, offering motivation and diet tips as well as support, information and the tools needed to lose weight and become healthier.
Participants take part in a football league where weight loss as well as goals scored during games contribute to the overall league result. Weight loss directly impacts on the team's performance and so far 90% of those taking part have lost weight.
All men aged 18 or over and with a BMI above 25 are eligible. Spaces are available and those wanting to join should visit www.manvfootball.org/Braintree.

Matt Hudson from MAN v FAT said: "The guys in the Halstead club have lost over 390kg in the year that the club has been up and running and have formed some great bonds on and off the pitch.

"We have been delighted to support so many men with their health and wellbeing and Jack, our coach, has graduated from being a player to leading the group currently and his own experiences have meant that he is providing some great advice to the current members."
Councillor Peter Tattersley, Cabinet Member for Health and Wellbeing at Braintree District Council said: "This is a fantastic initiative, and it is good to see it is so successful in our district. We all know how important it is to look after our health and MAN v FAT offers a great opportunity for like-minded people to keep healthy whilst following a popular hobby and enjoying themselves.
"At Braintree District Council we actively encourage all health and wellbeing activities, and we like to prioritise prevention, innovation and new ways of working to ensure the health needs of our residents are met."
Councillor Andrew Hensman, Chairman of Braintree District Council said: "I had the pleasure to visit one of the MAN v FAT training sessions and meet some of those taking part. It was good to see the activity in action and witness how all team members motivate each other, whilst working towards a shared goal."