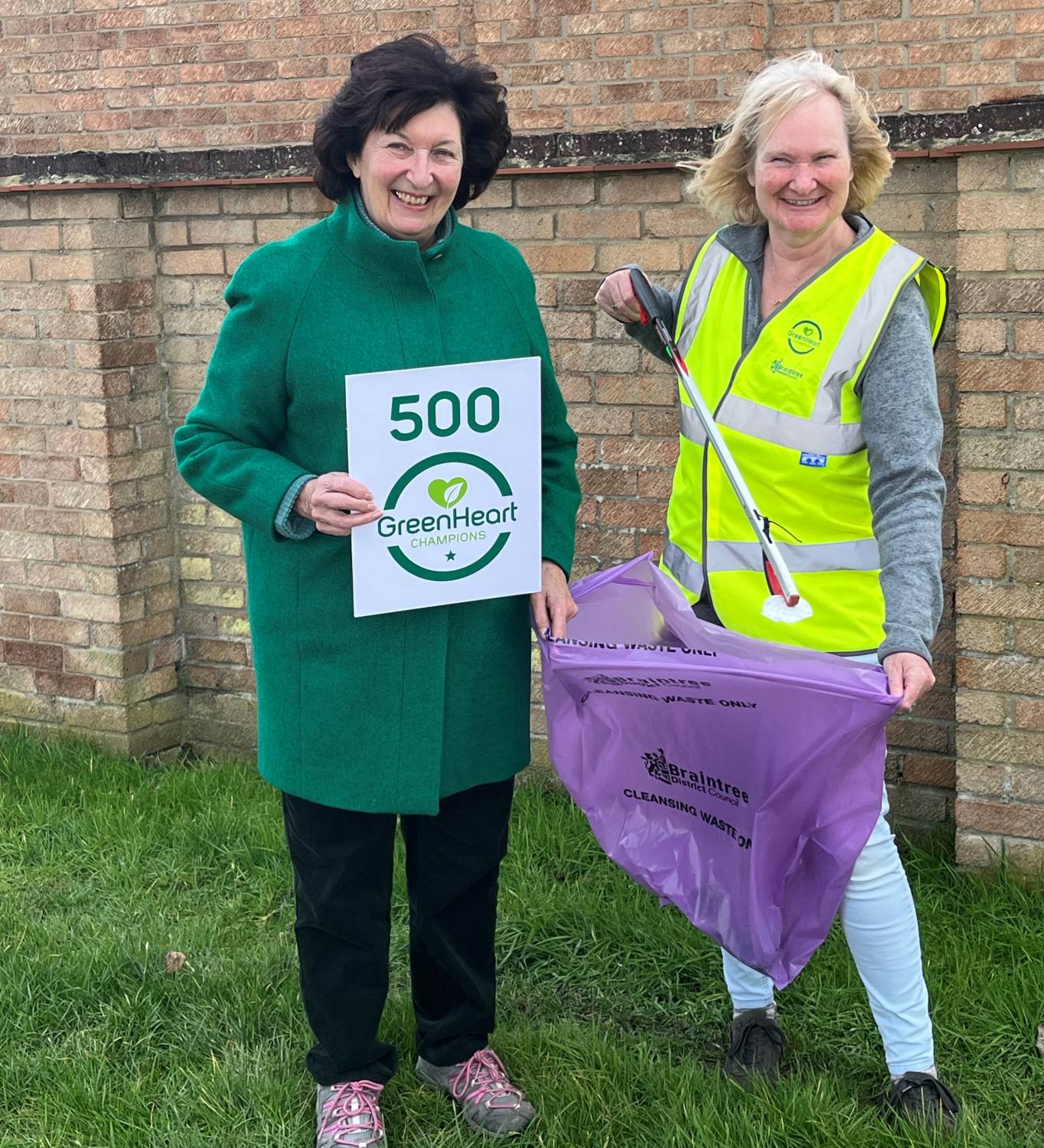 More and more residents across the district are stepping up to volunteer as a Green Heart Champion to help tackle the purge of litter that other people leave behind
In 2010 as part of the Green Heart of Essex campaign the council appealed to local people to become volunteers to help make the district one of the cleanest and greenest in the country.
Over the years, the number of Green Heart Champions has been growing as residents of all ages walk miles within the district collecting sacks full of discarded litter. They work together to keep their neighbourhoods clean, take pride in their communities and aim to keep the district litter free.
There are currently 524 Green Heart Champions registered with the council, either as individuals, families or community groups. Some of the volunteers who joined in 2010 are still out litter-picking today.
Recently, Braintree District Council welcomed Jane from Witham who is the 500th volunteer. Jane was inspired to start litter picking having retired after working for 45 years as a civil servant.
Jane said: "I walk most days and always enjoyed a walk prior to retirement. We have lovely wildlife along the river walk which is in danger of being affected by litter pollution so I thought that would be a good place for me to start.
"It makes me sad and angry when I see litter dumped by other people, especially when there's a bin nearby. It's sheer laziness not going a few extra yards to the nearest bin or even take it home.
"I would just like to say to the volunteers who have done it for years and to groups like the Witham Wombles, you all do a brilliant job to make our district a better and cleaner place to live in. I am a newcomer, but I hope to be able to contribute to the hard work already being done. When you join up as a Green Heart Champion, you get a nice high vis, gloves, litter bags and litter picker and hopefully you'll feel like you are doing some good for the environment, just like me."
Cllr Wendy Schmitt, Cabinet Member for Climate Change and The Environment at Braintree District Council said: "I have always been and will continue to be a huge fan of our Green Heart Champions. I am extremely grateful to each and every one of them for their dedication and support.
"The momentum to tackle the litter blight and to protect our environment is growing by the day. Some of the volunteers are as young as 5 years of age and that demonstrates how much the younger generation is becoming increasingly concerned about the future of our planet.
"Thank you to those who really do care about the impact of litter on climate change and shame on those who don't!"
Residents can find out more about becoming a Green Heart Champion visit the council's website: www.braintree.gov.uk/greenheartofessex