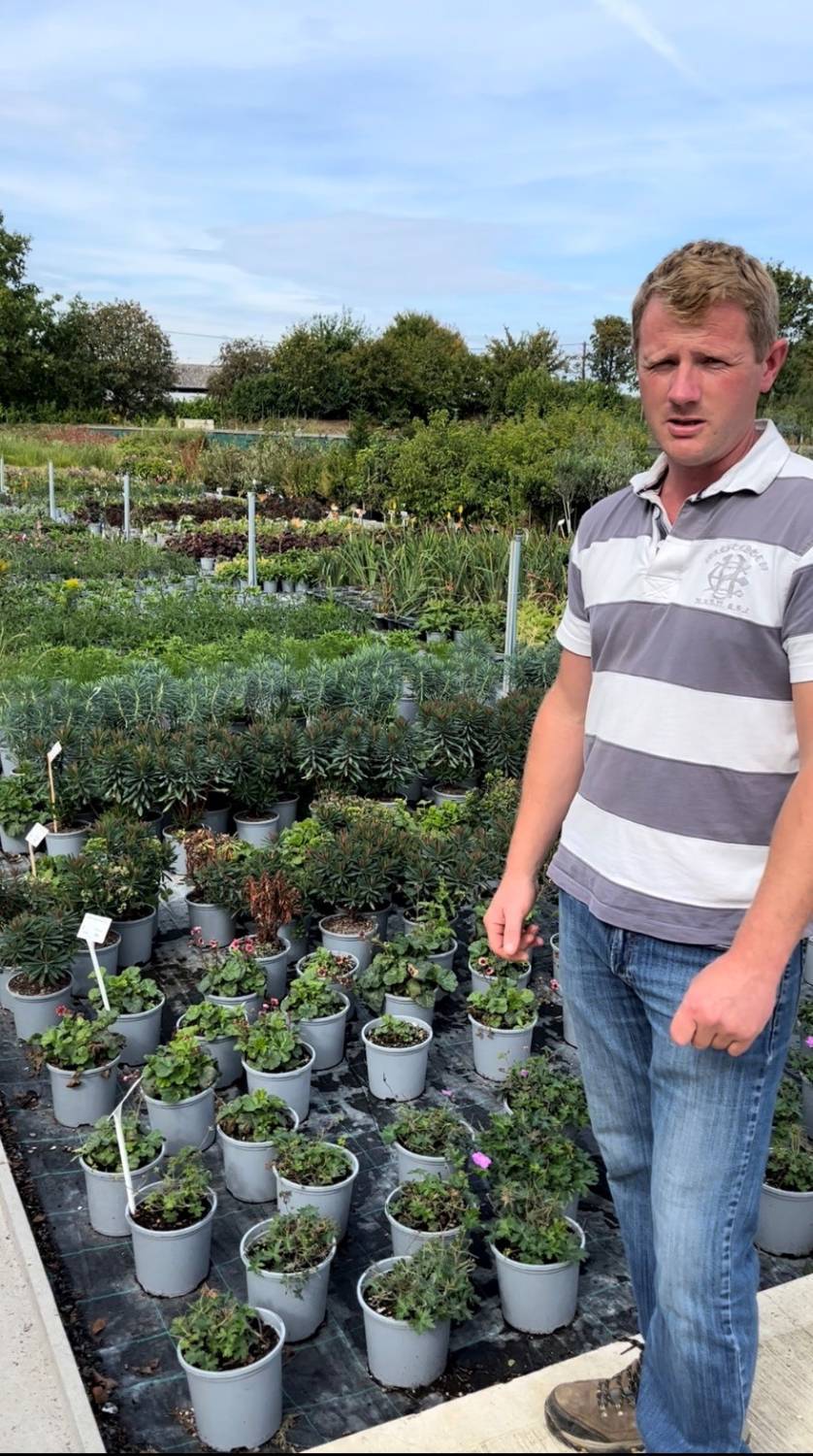 A new video has been created to showcase the sustainable measures introduced by the owner of a plant nursery in Earls Colne who is determined to protect the planet for generations to come.
Oliver Wass, of Olivers Plants in Coggeshall Road, puts climate change at the forefront of his business plan and is constantly looking to reduce, reuse and recycle from rainwater harvesting to using computer-controlled coloured lighting to boost his seedlings.
In the video, commissioned by Braintree District Council as part of our climate change strategy, Mr Wass shares some of his innovative methods and explains how they use LED lights in their propagation room to bring on seedlings, with technology used to calculate the perfect spectrum of light needed based on the height and type of plant to reduce wasted energy.
Around 60% of the products sold at the plant centre are grown at the company's nursery based a few miles down the road.
Mr Wass said: "That rises to 90% in spring when people are purchasing bedding plants and planting up their hanging baskets. We grow all of those ourselves."
They grow primroses that are sold throughout winter and into early spring in their huge greenhouse, which is kept at a constant temperature all winter. The team do not pump in artificial heat, instead the windows of the vast glass house operate on sensors and adjust according to wind, rain and heat to create the perfect growing conditions. When they do use heat, they do so from beneath and use heated tables. This then helps the plants thrive once planted by the customer as well.
Watering the vast quantities of plants grown on site is a huge job and uses thousands of gallons of water, so Mr Waas introduced rainwater harvesting and collect run off from the greenhouse roof. This collects in gutters and gravity pushes it into pipes which run under the road to a 750,000-litre storage tank and allows the business to be fully self-sufficient for most of the year. Water is also harvested at the plant nursery and reused for watering stock.
In the past year, the team at Oliver's Plants have created a market garden on redundant farmland at the rear of the plant centre and sustainability has been key to this project.
The 'cash crops' grown here are sold either in the plant centre or as part of seasonal dishes served in the on-site Black Horse cafe, but once they are harvested the team turn their attention to enriching the soil. Manure cover crops are used to protect the soil and feed in nutrients over the winter, as the head gardener explains in the video.
Mr Wass said: "We have invested huge amounts in our own nursery which has now given us control over what we grow and when we grow it, the amount of plastic we use, the energy we use and the water we use. It's our duty to try and do what we can."

Cllr Wendy Schmitt, Braintree District Council's Cabinet Member for Climate Change and the Environment, said: "Businesses have a duty to act responsibly and reduce their impact on climate change wherever possible, and we are pleased to highlight the work Olivers Plants are doing to create a better environment for the next generation.

"However, what they are doing should not be exceptional, this should be the norm if we are serious about reducing, reusing and recycling."
Cllr Tom Cunningham, Braintree District Council's Cabinet member for Economic Growth, said: "We are pleased to be able to showcase the work being done at Olivers Plants and are keen to support other businesses in the district which need help and support introducing sustainable measures."
To find out more about the support we offer businesses looking to introduce more sustainable measures, please contact ecodev@braintree.gov.uk