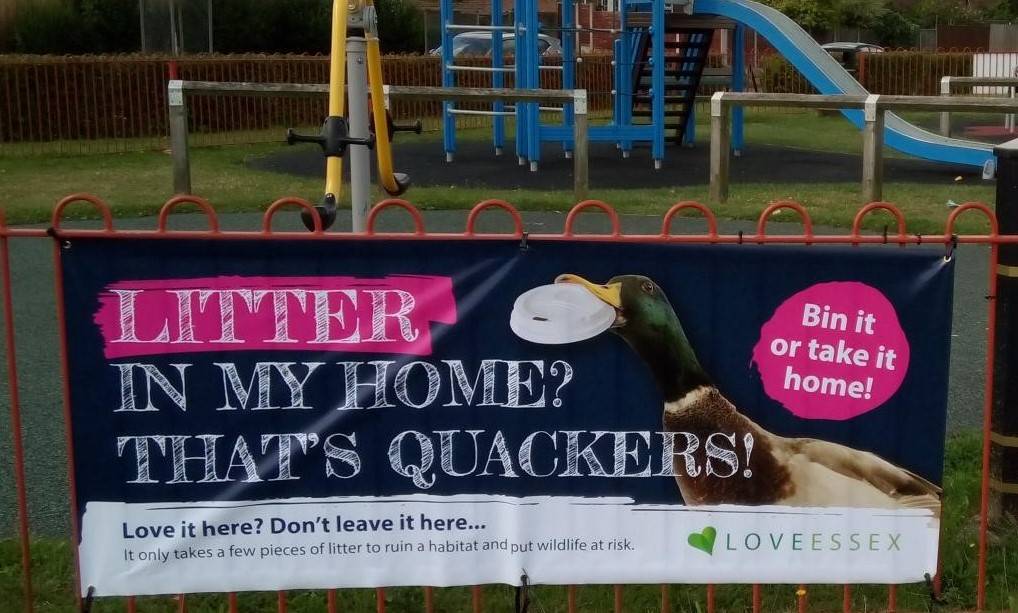 Braintree District Council is asking the public to think of the consequences of littering on the local environment and wildlife.
Braintree District Council is working in partnership with authorities across Essex to remind the public of the consequences of littering on the local environment and wildlife, by displaying Love Essex campaign banners and posters within parks and open spaces across the district asking, "Love it here? Don't leave it here…"
Since the first lockdown back in March 2020, our numerous local parks and green spaces have been increasingly important to many of us. Getting out in the fresh air for a walk helps to maintain our mental health and wellbeing, and we're really lucky in the Braintree District to have many beautiful parks, nature reserves and open spaces to explore.
Council staff and individual volunteers of all ages including Green Heart Champions and local community groups, all work hard to look after our green spaces. However, we all need to make sure we do our bit to protect our local areas so that we can all continue to enjoy them.
Litter is not a pleasant sight and has greater consequences other than looking unsightly. According to the RSPCA, it receives around 5,000 calls a year across England and Wales regarding litter and the impact on wildlife. On average it receives 14 calls a day about animals affected by litter and these calls spike in the summer months. And, as pet owners go directly to vets, and many injured wild animals are never found, it's estimated that the actual figure of animals injured by litter is much higher than currently known.
Cllr Wendy Schmitt, Cabinet Member for Environment at Braintree District Council said: "Litter ruins other people's enjoyment when visiting our parks and green spaces and sadly becomes hazardous when found accidentally by animals. Ducks, hedgehogs and birds can all be at risk within their own environment by even the smallest piece of litter and in many cases it costs their lives. The financial price to the local tax payer is just over £1.5million to keep our district clean and tidy, and clearing litter tossed across our green spaces is an expensive part of that."
The joint county-wide Love Essex campaign message is simple… It only takes a few pieces of litter to ruin a habitat and put wildlife at risk. Bin it or take it home!
For more information and report littering in the Braintree District visit: www.braintree.gov.uk/littering or call Braintree District Council's Customer Service Centre on 01376 552525.