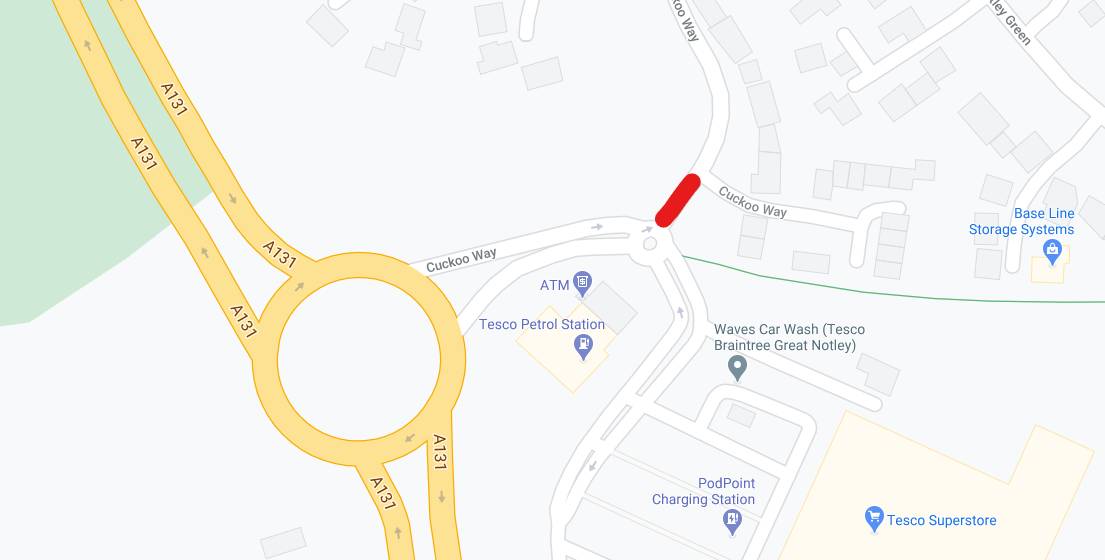 "We suggest that drivers allow extra time for journeys and that residents living on or near Cuckoo Way find alternative ways of getting to and from home."
Construction work will be carried out on and near the Cuckoo Way roundabout in Great Notley from Monday, January 4.
Braintree District Council's construction partner, Balfour Beatty, will be closing the northbound inside lane of the A131 at the Cuckoo Way roundabout from Monday, 4 January for 4 weeks. The outside lane, however, will remain open to traffic for the duration and drivers will still be able to turn right into the Tesco superstore at all times.
The section of road on Cuckoo Way, opposite Tesco, will also be closed to traffic from Monday, 18 January for a 6 week period.
This is so that Balfour Beatty can install a foul water main for the businesses relocating to the new Horizon 120 business and innovation park being built in the area. The construction work involves creating small bore tunnels which avoids the need to dig up the roads and footpaths. This safe method of construction is well used in situations where it is important to minimise disruption.
The footpaths will remain open and diversion signs will be in place.
A spokesperson at Braintree District Council said: "We want to make sure that workers working near the roads are safe which is why restricting traffic to one lane and closing a small part of the road on Cuckoo Way to drivers is essential. We suggest that drivers allow extra time for journeys and that residents living on or near Cuckoo Way find alternative ways of getting to and from home. We apologise for the inconvenience and would like to thank residents for their patience and understanding as this change begins."