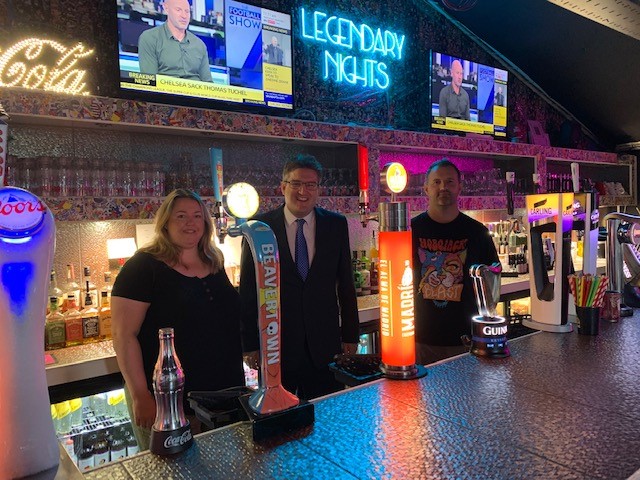 The owners of a popular sports bar in Braintree say businesses have been boosted by the arrival of budget hotel chain Travelodge in the town centre.
Helen and Luke Nash, owners of Legends Sports and Pool Bar, met with Cllr Tom Cunningham, Braintree District Council's Cabinet Member for Economic Growth, and members of the Economic Development Team to share their experience of running a town centre business over the past few years.
The sports bar has pool tables, shows sporting fixtures and has a function room available for hire for classes or events, and it is also home to the Essex County Pool Teams.
Mrs Nash explained to Cllr Cunningham that they host all of the home fixtures for the teams.
"When they play their big matches we have people from all over the country, and we are finding they are now staying at the Travelodge in Victoria Street. Previously they were staying at Dunmow or Chelmsford, but having that a walk away is great because they stay longer. They spend more money here but also visit the restaurants in the town either the night before or after a match. It is a boost for the whole town."
The couple took over the bar in 2015 and have experienced some challenging times as well as some recent highlights. They found the ever-changing lockdown restrictions throughout 2020 and 2021 a real struggle, explaining that they could only operate at 50% capacity yet had to increase staff to offer table service.
Through Braintree District Council they were allocated a Business Adaptations Grant made available by Essex County Council, which was used to install a light system in their bar area and on the pool tables. Customers could then use the switch to alert staff they wanted to order more drinks.
Mrs Nash explained that this allowed them to remain compliant, reduce the pressure on staff and enable customers to enjoy their evening without constant interruptions. This system continues to be used at the bar.
The business has seen a change in habits post Covid with people preferring to drink at home or spending less when they are out as many are conscious of rising energy bills at home, but the owners continue to work with others in the town and the Braintree Town Partnership to support independent business growth.
The Economic Development Team are currently working with Legends to identify marketing courses that could benefit a member of staff within their team who wants to take on their social media channels.
Mrs Nash said: "Businesses should reach out to the council because the team are experts in their field, they know about grants and opportunities that we simply don't. The team are fantastic to deal with and have offered us a huge amount of support, especially during Covid."
Cllr Tom Cunningham, Deputy Leader of Braintree District Council and Cabinet Member for Economic Growth, said: "It is encouraging to hear that Victoria Square regeneration is already bringing a boost to existing businesses in the town centre and we hope it continues to bring visitors to the district throughout the difficult months ahead.

"We are continuing our support for shops and hospitality venues in our towns and it is important we hear about the challenges businesses are facing so we can direct them to the right sources. By talking to our economic development team Legends were able to secure funding that helped them when they really needed it and that help is there for others too."
If you are a new or existing business within the district and would like business support, please contact our Economic Development team at ecodev@braintree.gov.uk