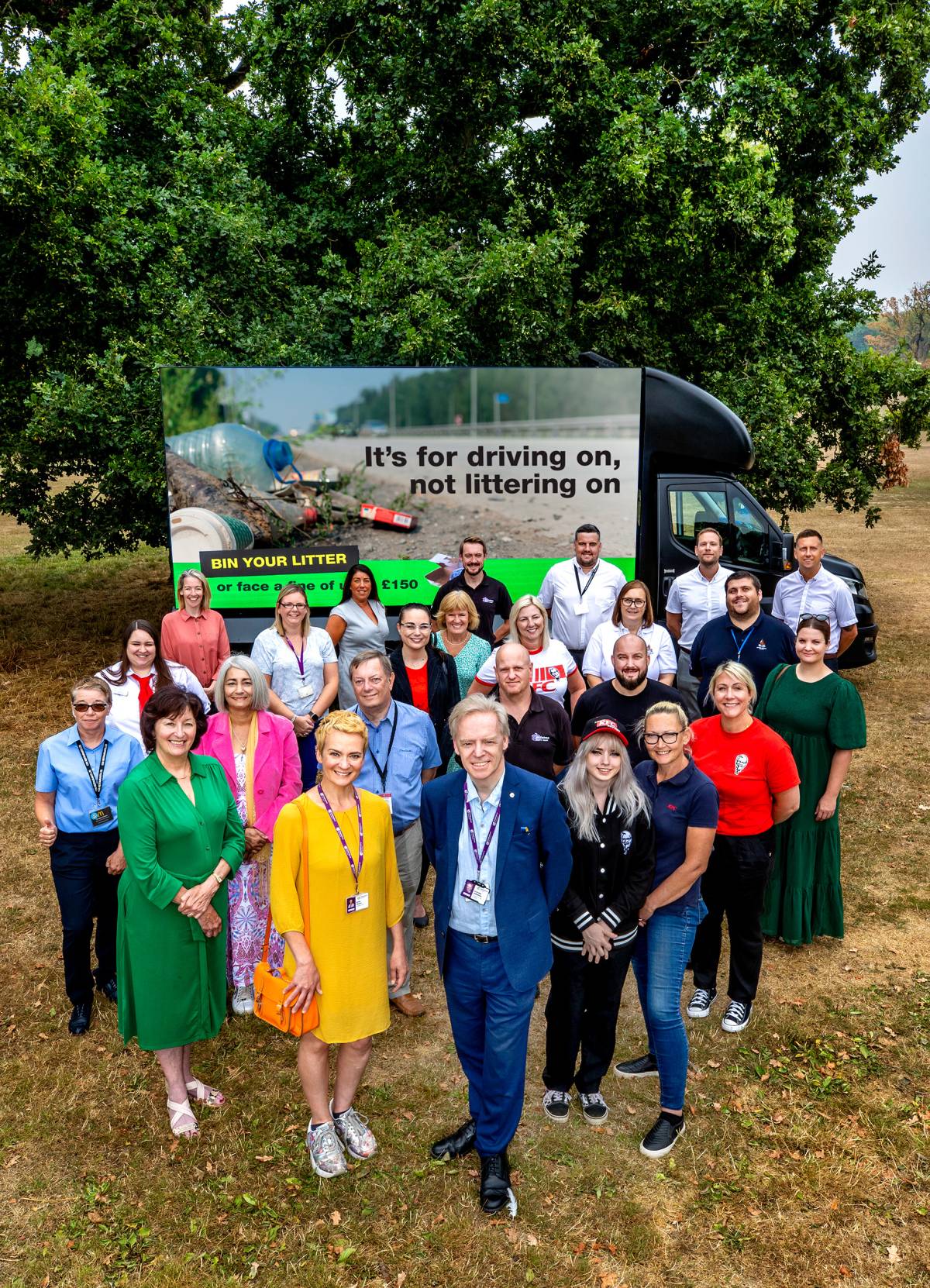 Braintree District Council is working in partnership with local authorities and fast-food restaurants across Essex to fight the continuing scourge of people throwing litter out of their vehicles.
Vehicle users are being reminded by Essex authorities that roads are for driving on, not littering on, as part of this year's Love Essex campaign.
Keeping Essex clean and tidy costs the taxpayer over £17.5 million a year. With continued pressures on local authority budgets, the demand and pressure put on providing services such as street cleansing continues to rise.
Local businesses, KFC and McDonald's will be supporting the campaign by displaying banners at 48 drive-through restaurants with the message 'It's a takeaway not a throwaway', as well as distributing stickers on packaging and inside restaurants.
The campaign will highlight the consequences offenders who are caught throwing litter from a vehicle will face. This includes a Fixed Penalty Notice of up to £150, or upon a conviction in a court, a fine of £2,500, plus all costs awarded.
Councillor Wendy Schmitt, Cabinet Member for Climate Change and The Environment at Braintree District Council said: "This year, the anticipated cost of keeping our district clean and tidy will be around £1.54 million and picking up other people's litter is an expensive part of that.

"We know the detrimental impact that litter has on our environment. This anti-social behaviour needs to stop and some people need to take responsibility for their own thoughtless actions. There is no excuse not to dispose of litter in the proper manner and we have a zero-tolerance level towards littering offenders. All it takes is for people to just use the bins provided at the restaurants, in roadside laybys, or to take their litter home."
Bus shelters and the back of buses will also be displaying the campaign messages and to drive the message home, a video has been produced to highlight the consequences: loveessex.org/litter-video
Claire Owen, Director People and Culture at KFC said: "Our KFC restaurants are proud to be a part of this campaign. We Love Essex and that's why we're reminding our customers that it's a takeaway, not a throwaway. That's why you'll see our teams out litter-picking too - doing our bit to keep our streets clean."
Sam Reid, Brand Manager at PJT Restaurant's Ltd added: "We take our responsibility around litter very seriously, which is why for over 40 years, McDonald's restaurant teams have carried out daily litter patrols in our local communities, collecting all litter not just McDonald's branded packaging. We are delighted to support Love Essex with their campaign and will be encouraging our customers to help us tackle this problem by taking their litter home and recycling or disposing of it responsibly."
Anyone can report a vehicle litter offender by using Braintree District Council's 'See it – Report it' service or call the Customer Service Centre on 01376 552525.
Braintree District Council also welcomes dashcam footage of littering offences that includes the vehicle registration plate. This can be used as evidence by the Streetscene Protection Team to follow up on any reports received. Information can be sent to streetscene.enforcement@braintree.gov.uk or csc@braintree.gov.uk.
To find out more about Love Essex and this campaign, visit the Love Essex website.