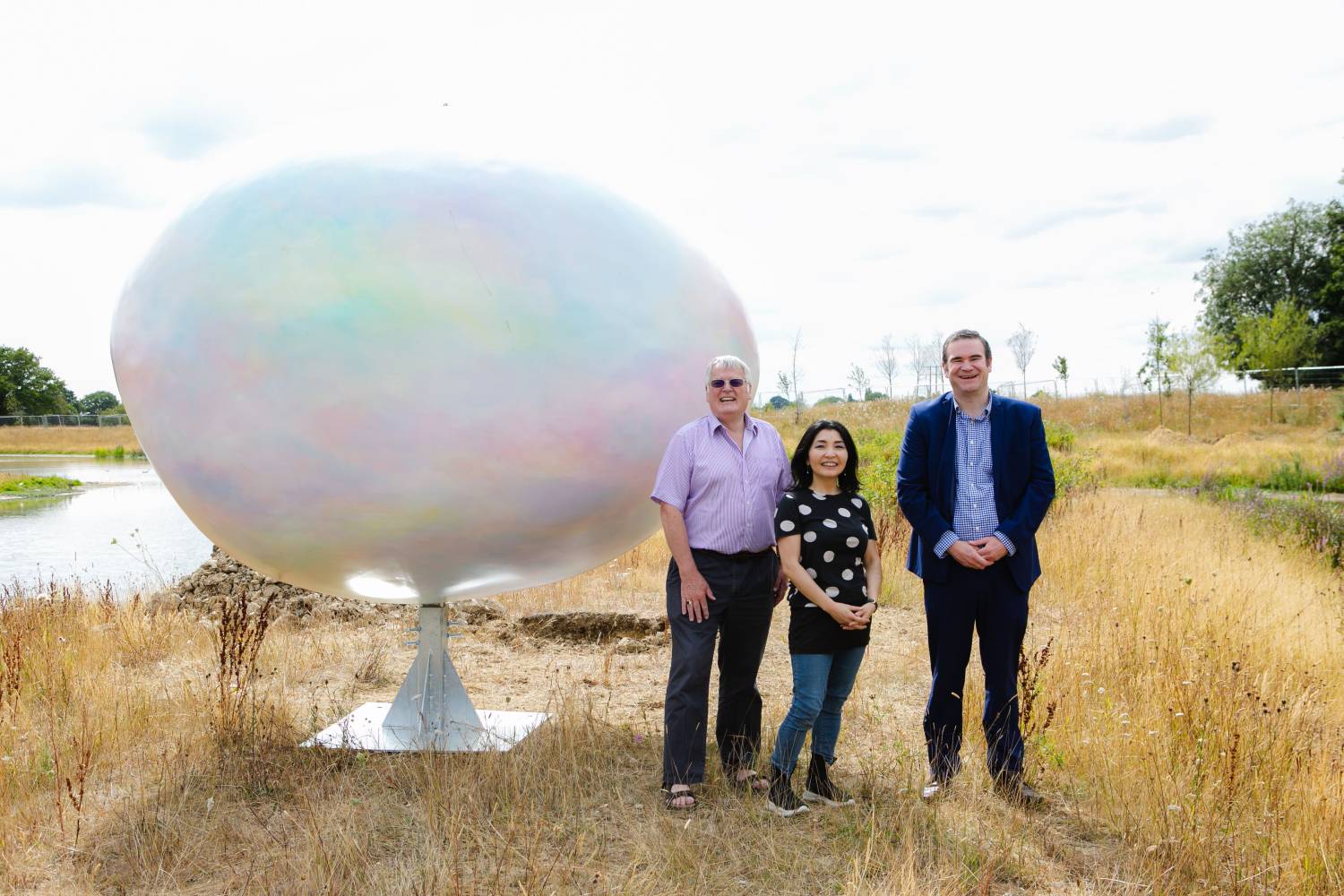 "The new installations are impressive in both scale and form and create opportunities for people to stop and pause and make a connection with the art."
Work on the installation of five new pieces of art is underway at Horizon 120.
Horizon 120 is the new business, innovation and logistics park, currently under development, just off of the A131 in Great Notley, Braintree.
The art pieces include a pair of monumental pearlescent eggs, a digital screen with videos connecting to astronomy and two vertical sculptures symbolic of the sun and a cloud.
The new pieces are from artists Yukako Shibata, DCSK with Marman and Borins and Turner Prize nominee Mark Titchner.
The artists worked with a local primary school and spoke to the neighbouring country park and local cultural organisations to develop their ideas and pieces.
Mark and Yukako ran four creative workshops over a two week period with students from Notley Green Primary school. The children cast and painted their own eggs and experimented with printing techniques using natural objects.
The artworks celebrate nature, innovation and technology.
Yukako Shibata's pearlescent eggs sit opposite and across the pond from each other in the habitat area next to the country park. The hand-painted eggs symbolise life and are an ode to the abundant wildlife in the local area and beyond.
Mark Titchner's piece is a large digital screen with videos which feature words and imagery connecting to the astronomical and mythical origins of day names. The videos follow a set sequence involving a greeting, short philosophical question and corresponding meaningful statement. 'The one without the other is nothing' is Mark Titchner's first animated permanent, public artwork
The sculptures situated on the roundabouts represent the sun and a cloud. As drivers pass the vertical and linear elements of the sun, the colours transition from red to blue to green to yellow. The vertical elements for the cloud are in contrast dispersed and random. DCSK with Marman and Borins explain that the sun symbolises new beginnings and the pieces together represent nature and technology in balance.
Braintree District Council worked with curators Niamh White and Tim Shaw to commission the pieces.
Kieran Jones, Teacher at Notley Green Primary School, said: "It was wonderful for the children to experience the artistic process first hand. They took genuine pride in the works they created with Mark and Yukako."
Curator Niamh White said: "It has been wonderful to work with these artists over the past year to bring these extraordinary artworks to life and particularly memorable to work with the children at Notley Green Primary School. We hope that people will have surprising, joyful and inspiring encounters with them for a long time to come."
Cllr Kevin Bowers, Cabinet Member for Assets, Housing and Skills at Braintree District Council, said: "The new installations are impressive in both scale and form and create opportunities for people to stop and pause and make a connection with the art. I'm especially pleased that the artists worked with the local community to develop their ideas and pieces. The displays are striking and very original."
More about Niamh White & Tim Shaw
Niamh White is a London based visual arts curator who has worked in both commercial and public galleries creating exhibitions for a range of audiences.
Niamh White and Tim Shaw are founders of an award-winning arts and mental health charity Hospital Rooms, which transforms secure and locked mental health units with museum quality art.
Hauser & Wirth is hosting a major exhibition showcasing the extraordinary work of arts and mental health charity Hospital Rooms
Mark Titchner Bio
Mark Titchner's (b. 1973, Luton, UK) work involves an exploration of the tensions between the different belief systems that inform our society, be they religious, scientific or political.
Focusing on an exploration of words and language, in recent years much of his production has been based in the public realm both in the UK and internationally. These public works have often been created from extended group activities, working particularly with young people and in mental health settings.

He was nominated for the Turner Prize in 2006, participated in the Venice Biennale in 2007 and was Artist in Residence at the Art Gallery of Ontario, Toronto in 2012. In 2018 he completed a major new permanent public work, 'Me, Here Now' which is installed at London Bridge Station. His work is held in numerous Public Collections including Arts Council, Tate, British Council, Government Art Collection, South London Gallery, Manchester Art Gallery, Birmingham Museum and Art Gallery and Guildhall Art Gallery.
Yukako Shibata Bio
Yukako Shibata explores the subliminal colours of both the natural and man-made world and questions the complex interplay of light, atmosphere and the way in which we perceive these things.
Finding beauty in all things mundane interests her, and it is these moments of reverie that are embodied in the work. Yukako was born in Hokkaido, Japan, and has lived and worked in London since 1993.
Yukako has a MA in Painting at the Royal College of Art. She has exhibited in numerous solo shows and group shows in the UK, Canada, Germany and Japan.
DCSK with Marman & Borins Bio
Artists Jennifer Marman & Daniel Borins frequently collaborate with architect James Khamsi at DSCK. Together, they have completed numerous major public art commissions and have worked to bring place, vibrancy, and meaning to urban spaces.
Jennifer Marman and Daniel Borins are artists whose practice is dedicated to collaboration and experimentation across a range of media. James Khamsi is an architect whose practice is dedicated to the public spaces, resources and networks of the city.
In their collaborative work, they cross the boundaries that separate creative disciplines by incorporating art, media, architecture, landscape and urbanism into each project.