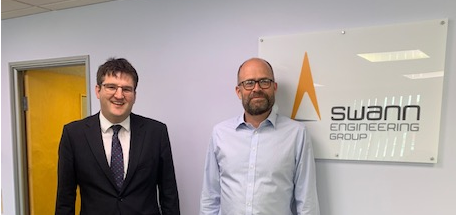 Cllr Tom Cunningham, our Cabinet Member for Economic Growth, recently paid a visit to Swann Engineering Group Ltd.
Swann Engineering Group is a local business that designs and manufactures steel structures commonly used in telecoms infrastructure, house building, outdoor lighting and digital media structures.
Their headquarters in Braintree, which currently employs over 100 people, is looking to grow and expand to meet the needs of its customers and markets.
Jeff Carlton, Managing Director said: "Like many businesses, external factors have had a significant impact on our supply chain, but we've been proactive in mitigating changes in trading conditions and are fortunate to be able to explore future growth plans."
During the visit, the two parties discussed the grant schemes available and opportunities for fully-funded training and skills development.
Cllr Cunningham said: "I would like to thank everyone for a really enjoyable visit and I'm pleased that we were able to give Swann Engineering Group a flavour of the funding, business support and training opportunities open to them."
Businesses interested in business support can email economicd@braintree.gov.uk