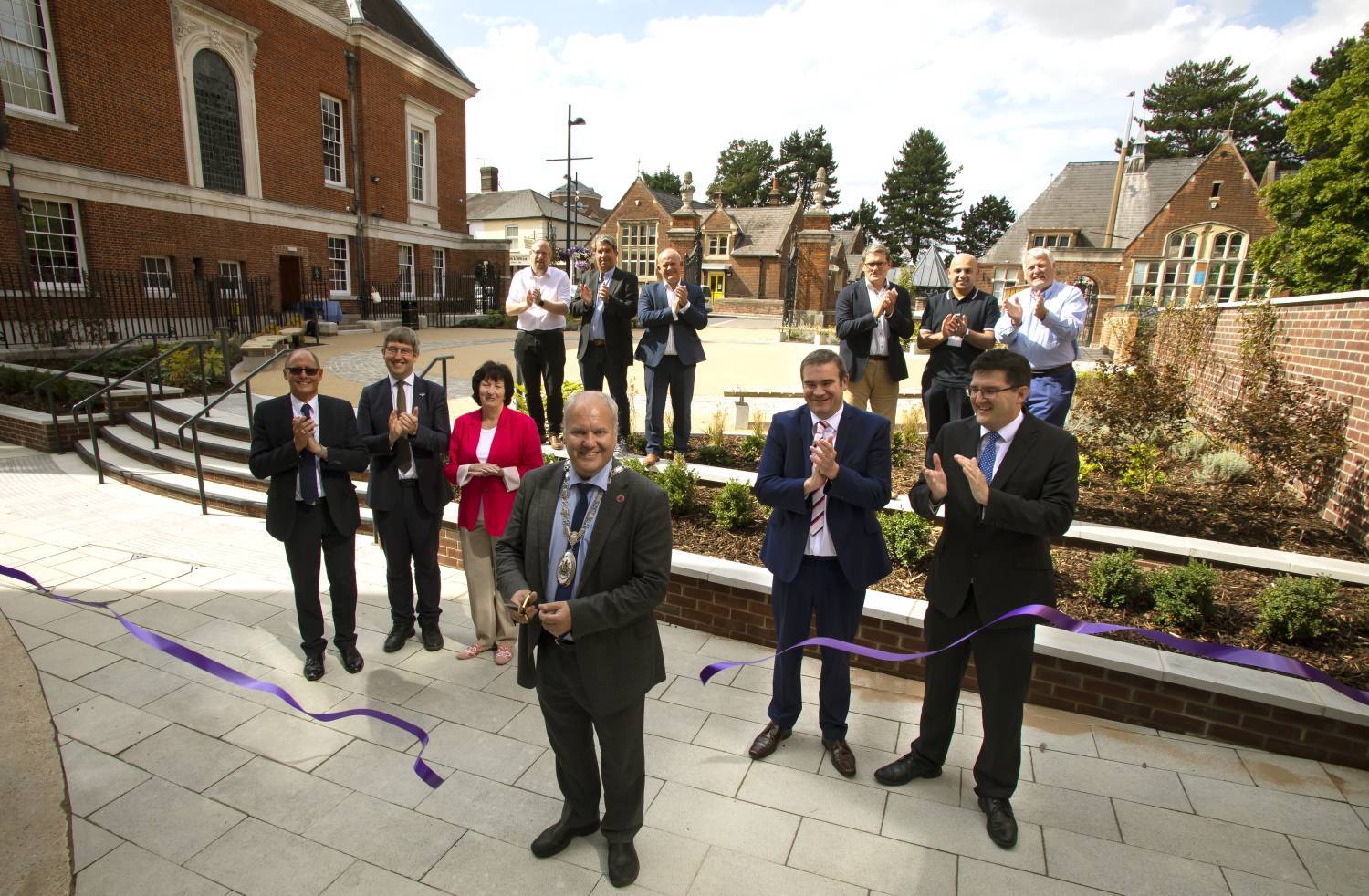 "We've reached another milestone in the modernisation of our town centre with the opening of this new public open space."
A new garden and plaza area has opened to the public in Braintree's town centre.
Councillors and partners joined Chairman Councillor Andrew Hensman as he cut the ribbon in an opening ceremony at the garden situated behind the Town Hall on Manor Street last week.
The new plaza is circular in shape and contains wooden benches, trees and shrubs as well as steps connecting it to the library. The new area complements the character of the Town Hall and the adjacent listed pillars and walls.
The design includes certain elements which makes the garden friendlier for people living with conditions such as dementia.
The paving is limited to two types with tones which are soft and muted and the low level walls and visible entry and exit points make the space feel open and calm.
The plants are textured and scented to stimulate the senses and the species are familiar to older generations.
The garden forms one part of Braintree District Council's £30 million Victoria Square regeneration which also includes 35 new apartment homes, a Livewell hub, pharmacy, 70-bed Travelodge, café/restaurant, new bus interchange, public toilets and a twin level car park.
The garden is open seven days a week. There are CCTV cameras to monitor and deter littering and anti-social behaviour.
Matt Bird, Senior Landscape Architect at Wynne-Williams Associates in Feering, said: "The design is sensitive to surrounding listed walls and structures, whilst providing a quiet destination space offering an attractive setting for wedding photos for those having ceremonies at the Town Hall, as well as a peaceful surrounding for people using the town centre."
Cllr Kevin Bowers, Cabinet Member for Assets, Housing and Skills at Braintree District Council, said: "We've reached another milestone in the modernisation of our town centre with the opening of this new public open space. We hope, as the plants develop and mature, it will be a relaxing place for people to sit and perhaps eat their lunch. It's also a great outdoor space for guests using the facilities at the Town Hall. I'm delighted to be here to mark this special occasion with colleagues and partners."
Ian Gifford, Regional Director at Kier Eastern and Midlands, said: "This new space is the final piece in the regeneration of Victoria Square, which Kier is proud to have played a key part in. We worked closely with the town hall and museum to redefine the garden space, and create a design which also reflects Braintree's history, bringing in elements like photographic tiles with textile patterns in a nod to the town's past. The end result is a peaceful place for people to sit and enjoy, while providing good access to the town hall."