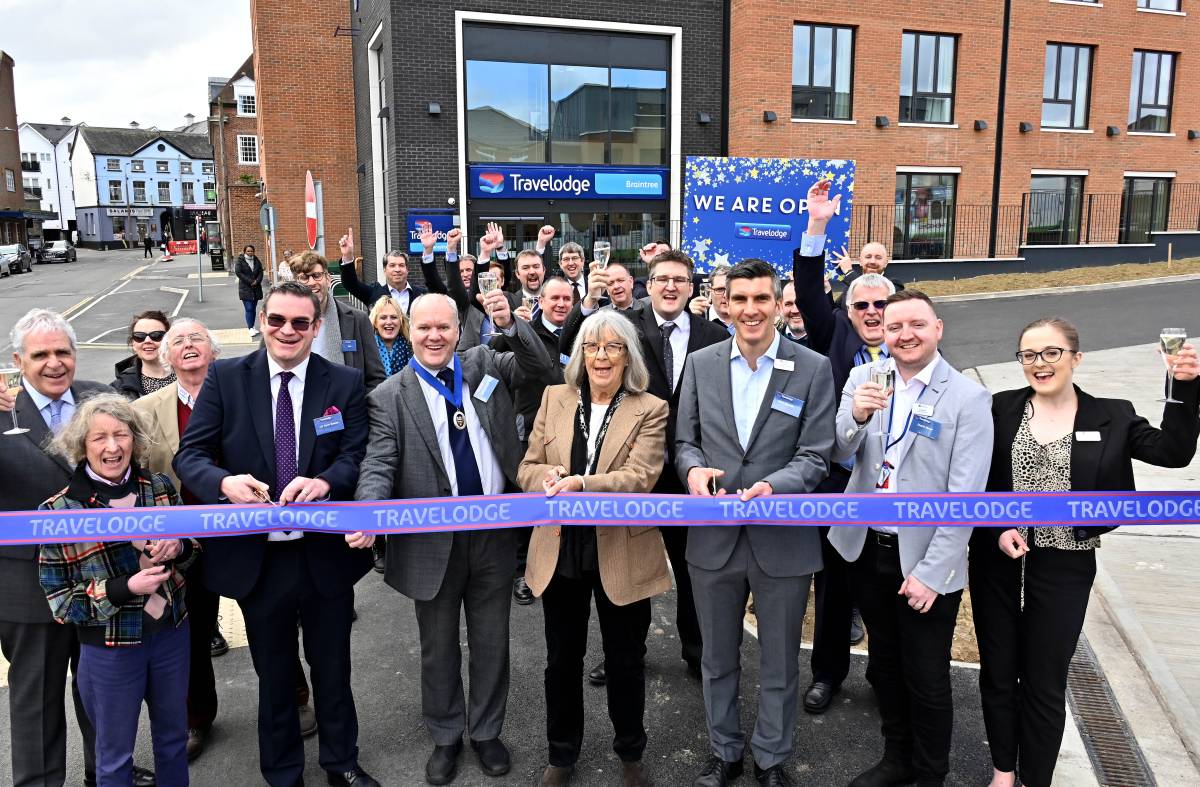 "It's wonderful to see the new Travelodge finished and open to visitors."
Local boy, Travelodge Chief Property & Development Officer Steve Bennett officially opened Braintree's Travelodge with Chairman of Braintree District Council, Cllr Sue Wilson and Cabinet Member for Housing, Assets and Skills Cllr Kevin Bowers.
The hotel is located in the town centre and it is the first branded budget hotel to be located in the centre close to the High Street and railway station. This is the group's 594th hotel and its 14th property in Essex.
Braintree Travelodge is also the group's first of seven hotels to open this summer.
The purpose built 70-room hotel features an on-site restaurant called The Bar Café and an on-site car-park which has created 20 new jobs within the community.
The hotel has been developed and funded by Braintree District Council who has leased the hotel to Travelodge. The hotel is part of a local regeneration scheme which involved converting an existing old car and bus park into 35 residential apartments, a health centre, twin level car park and Braintree's first Travelodge hotel. The scheme also includes retail units and a new bus interchange.
Braintree Travelodge has been styled in the company's contemporary brand design which has been created by business and leisure customers and features family, double and accessible rooms from £32 – which can be booked at www.travelodge.co.uk
All rooms feature the bespoke luxurious king-size Travelodge Dreamer bed which is produced by Sleepeezee who hold a Royal Warrant from HRH The Prince of Wales. The Travelodge Dreamer bed sits within a mood lighting surround and has spacious bedside shelves featuring his & hers charging ports. In addition all family rooms include two individual beds for children.
The rooms also feature a modern en-suite bathroom, power shower, comfort cooling to enable you to personalise the temperature of your room, a 32 inch Freeview TV, complementary in-room tea & coffee making facilities and access to WiFi.
The Bar Café offers a great value breakfast and dinner menu and a bar service that offers a range of aperitifs such as a gin menu, a broad range of red & white wines, prosecco and champagne.
Braintree Travelodge is managed by Charlie Glover who joined Travelodge in 2014 and has managed a number of Travelodge hotels within the estate. Charlie has built a strong team of 20 local people. Many of the team members are parents as Travelodge is dedicated to supporting working parents, by offering flexible working hours around the school run; so that they can work, climb the career ladder and raise their family.
Steve Bennett, Travelodge Chief Property & Development Officer said: "As a local resident I am delighted to kick start our 2022 new hotel openings programme by opening our first hotel in my home town, Braintree. This opening is our 594th hotel and our 14th Travelodge in Essex. With this opening we now operate a strong network of great value hotels running across the county. With the Staycation set to be big this year, all of our Essex hotels are gearing up for a busy summer."

"Braintree Travelodge is centrally located and will certainly help attract new business and leisure visitors to the area. This is great news for the local economy as research shows our customers will spend on average double their room rate with local businesses during their stay, which equates to a multi-million pound boost into the local economy."
Cllr Kevin Bowers, Cabinet Member for Housing, Assets and Skills at Braintree District Council, said: "It's wonderful to see the new Travelodge finished and open to visitors. It's an excellent choice of hotel for people travelling on business and an affordable option for people visiting family or friends or attractions local to the area. It's centrally situated, next to the new bus interchange and within walking distance of the local museum, shops and train station.

"Our investment and partnership with Travelodge is creating jobs, attracting visitors and generating trade for local shops and businesses. This will benefit our town centre and our community for many years to come."