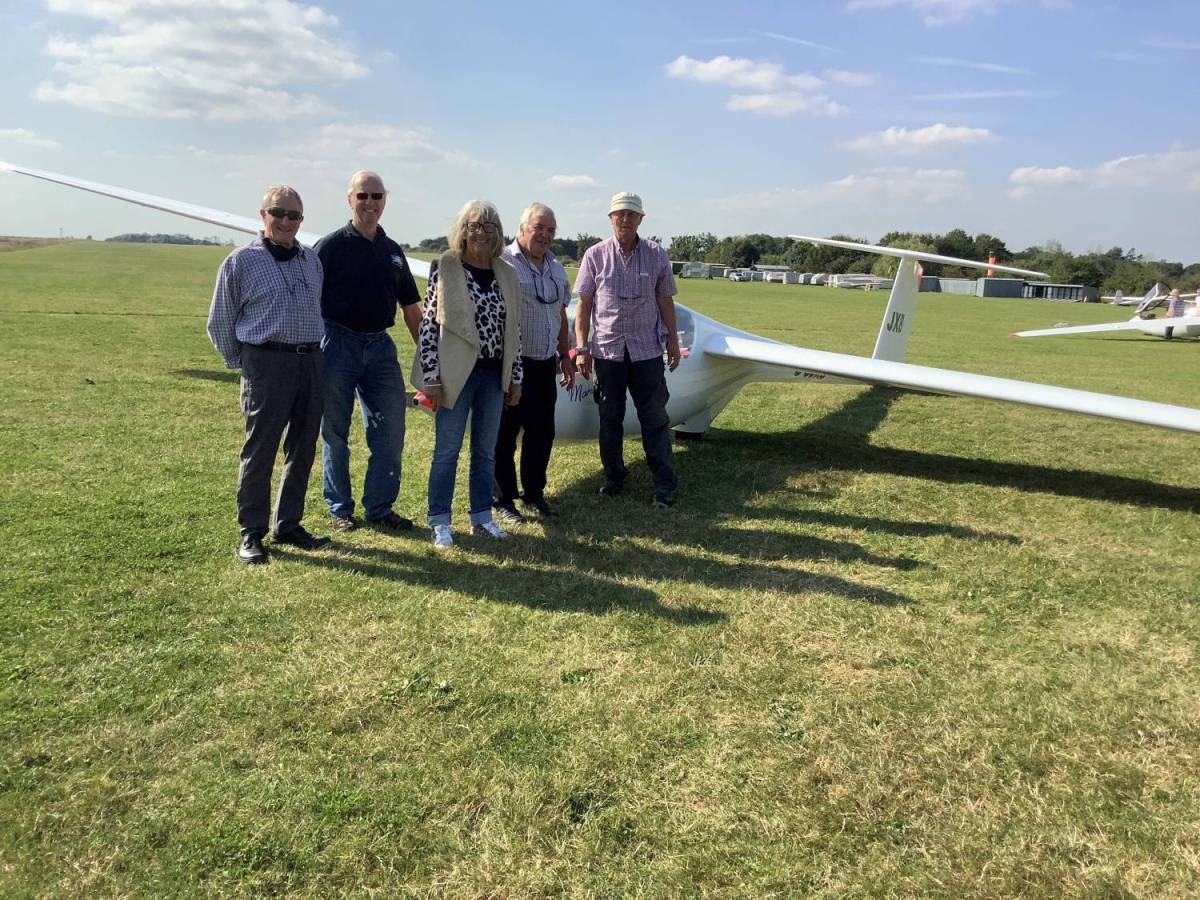 "I thoroughly enjoyed meeting the volunteers and the tour I was given of the airfield, simulators and gliders."
Chairman Councillor Sue Wilson started her tour of businesses with a visit to the Essex Gliding Club.
Chairman of the club John Whitwell MBE gave Councillor Sue Wilson and Officer Danielle Putt a tour of the airfield, simulator and fleet of gliders.
Essex Gliding Club is a small, friendly club, with around 50 active members, which operates from an airfield in Ridgewell, close to the Suffolk border.
A glider is an aircraft designed to fly without an engine; and the club invites people to take to the air for fun.
The club, which is funded by members and run wholly by volunteers, is looking for opportunities to capitalise on the financial support available from government and other organisations to help further improve its services to residents and visitors.
During the visit, the two parties discussed some of the grant schemes available which could help cover some of the costs associated with the maintenance of the airfield and purchase of new equipment.
The visit also covered an introduction to the free training courses and mentoring sessions offered and run by partners to support businesses.
The wider aim of the tour is to identify ways in which to grow and support businesses and the local economy.
Businesses interested in business support can email economicd@braintree.gov.uk.
Chairman Cllr Sue Wilson at Braintree District Council said: "I thoroughly enjoyed meeting the volunteers and the tour I was given of the airfield, simulators and gliders. We were both offered a ride in the glider and our hosts were friendly, helpful and informative to us both. I would like to thank them for a really enjoyable visit and I'm pleased that we were are able to give them a flavour of the funding opportunities open to them."
Chairman of the Essex Gliding Club John Whitwell MBE said: "It was a very real pleasure to introduce the Chairman of Braintree District Council and her colleague, Danielle Putt, to the Essex Gliding Club. It is quite an honour for us to be chosen for the first of these innovative visits.

The exhilarating sport of Gliding involves flying unpowered aircraft using the same naturally occurring currents of air that birds use to fly. Using these invisible currents we can soar to great heights and travel long distances. For more information visit our website, www.essexgliding.com."