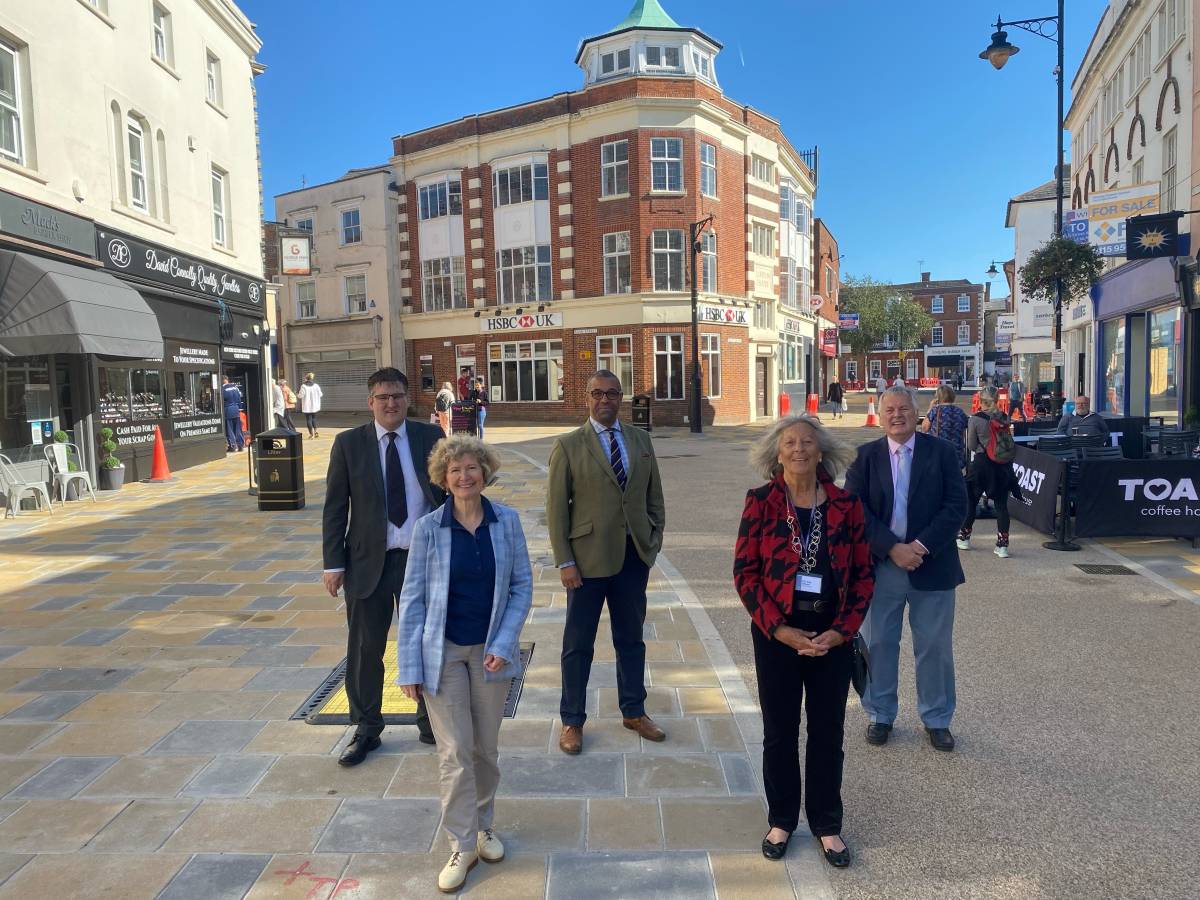 Partners including district councillors, Essex County Council and local Braintree MP recently visited Braintree town centre to see progress on the pedestrianisation scheme.
The pedestrianisation scheme, a scheme that will improve the public realm and help revitalise the town centre for the future and is due to finish soon, will see a new one-level surface with modernised street furniture, trees, electricity points for market traders and new seating areas.
The scheme was shaped by the views of people who live, work and visit the town centre following two years of consultation, which showed a strong support for a pedestrianised area in Braintree town centre. Through a consultation process held whilst the project was planned, many people recognised the benefits such as creating a safer, healthier environment, fixing the roads and pavements and allowing for more social events and markets.
Thanks to over £3million partnership funding from Braintree District Council, Essex County Council and Department for Transport, this investment will help create a new safe, flexible and social space which can be used to host events and markets - all to encourage pedestrian movement around the centre, boost footfall and aiding the town's recovery from the impact of the coronavirus pandemic.
Over the next few weeks the few remaining areas of work will be complete with the street furniture and trees being installed in October/November 2021. UKPN, who provide local electricity infrastructure have commenced essential connection works in the town centre as part of their wider programme, meaning the final laying of resin in Market Place will be undertaken when the electrical work is completed, expected to take place early next month.
Residents and businesses are encouraged to visit Braintree District Council's website www.braintree.gov.uk/pedestrianisation which will be updated as the contractors work through the town centre.
Cllr Tom Cunningham, Deputy Leader and Cabinet Member for Economic Growth at Braintree District Council, said: "Without our investment alongside our partners, these improvements would just not happen, so we are pleased we are able to move this forward as it's something our residents and businesses have wanted for a long time. We appreciate the works have taken longer than anticipated for various reasons including supply issues, and we want to thank the public and businesses for their patience and understanding while the works are carried out. We have already seen the benefit of the new town centre layout at our recent street markets and once complete, it will really transform the town centre, helping us create a place we can all be proud of and support our local businesses to bounce back from the pandemic."
Cllr Lesley Wagland, Essex County Council's Cabinet Member for Economic Renewal, Infrastructure and Planning, said: "This significant investment will help revitalise the Braintree town centre and encourage economic growth as the area recovers from the Covid-19 pandemic. The designs, which have been developed for residents with their input, compliment the work Essex County Council is doing on economic renewal whilst also making it safer and easier to walk, encouraging active travel. Essex County Council is delighted to have contributed to the scheme, which will benefits residents and businesses for decades to come, and I look forward to seeing the finished project."
James Cleverly, Braintree MP, said: "It's great to see the time and money invested in the High Street coming to fruition. During Covid we were reminded of the importance of local shops and businesses, and I'm pleased to see the town centre looking so inviting now."
We are encouraging residents and businesses to check our website for the latest updates on the works: www.braintree.gov.uk/pedestrianisation and sign up to receive email updates at www.braintree.gov.uk/tellmemore.