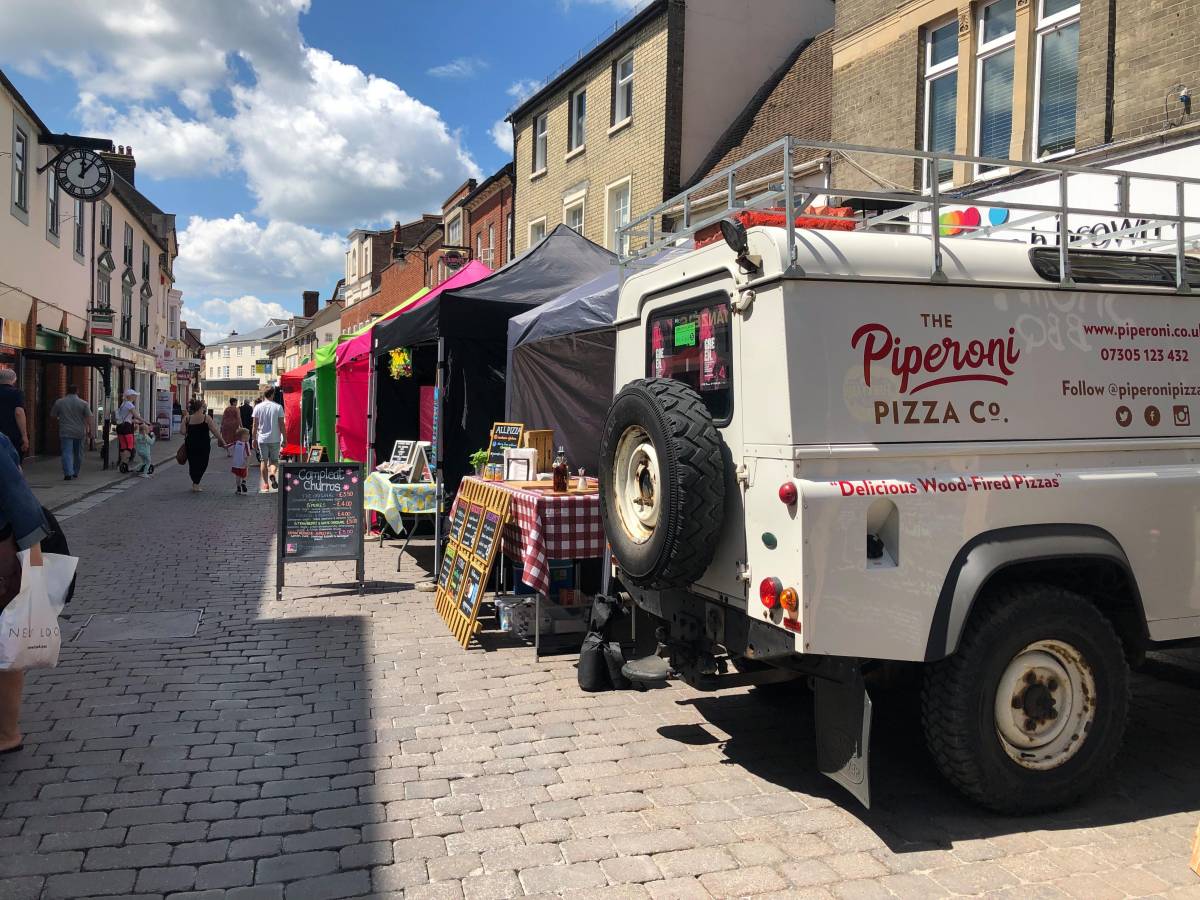 The popular monthly street market, which has proved a huge hit with visitors and businesses since it was introduced in 2018, is making a comeback next weekend (Saturday 28th August).
The markets, which are organised by Braintree District Council, takes over Braintree town centre on the last Saturday of each month, with additional dates over the Christmas period. Due to the COVID-19 pandemic, the markets were not held last year but as legal restrictions have now lifted, the Council are able to gradually start inviting more traders back, to encourage more people back into the town centre, to spend time, socialise and help boost trade for local businesses.
Since the markets launched back in 2018, many residents and visitors have flocked to the event to enjoy the delicious food and drink on offer, browse the local produce, gift and craft stalls and lap up the all-round positive atmosphere.
A selection of traders will be on hand on Saturday 28th August along the main High Street and George Yard Shopping Centre - serving everything from handmade giftware, clothing and crafts, wall art prints to traditional fudge, chilli oils and sauces and a range of wine, beers, ciders and spirits.
Due to the current pedestrianisation construction work taking place in Braintree town centre, there will be a limited number of stalls in the areas which are open for pedestrian use across the town centre. Once the pedestrianisation scheme works are complete soon, this will help provide a bigger and more vibrant stall offer for future markets, incorporating built-in seating, more electricity supplies to allow for more stalls, trees and more litter bins.
Braintree District Council says some businesses reported an increase in footfall during 2019's events, and hope the future events for 2021 will see another boost for town centre businesses.
Cllr Tom Cunningham, Deputy Leader and Cabinet Member for Economic Growth, said: "After a tough 18 months for local businesses, we couldn't be more excited to welcome the return of our series of street markets and build them back up gradually as COVID restrictions have lifted. Whilst the first one will be a smaller market than what Braintree has seen before as construction work is still underway in the town centre, it will provide a glimpse of what will be an exciting future for the town – where we'll be able to start providing a bigger and more vibrant market offer to support our small businesses and help them bounce back even better."
The street markets are just one of the ways Braintree District Council hopes to give the town a boost - alongside the £30million Victoria Square development and £3million pedestrianisation project to regenerate Braintree town centre.
People can keep up to date on the latest news and details of the street markets by visiting the Visit Braintree District website and social media channels.
Braintree District Council's COVID-19 ambassadors will be on hand at the event to assist and support visitors. Market traders attending on the day will have COVID-19 measures in place at their stalls.
Traders interested in becoming stallholders at the markets can contact us on 01376 552525 or fill in the application form online.