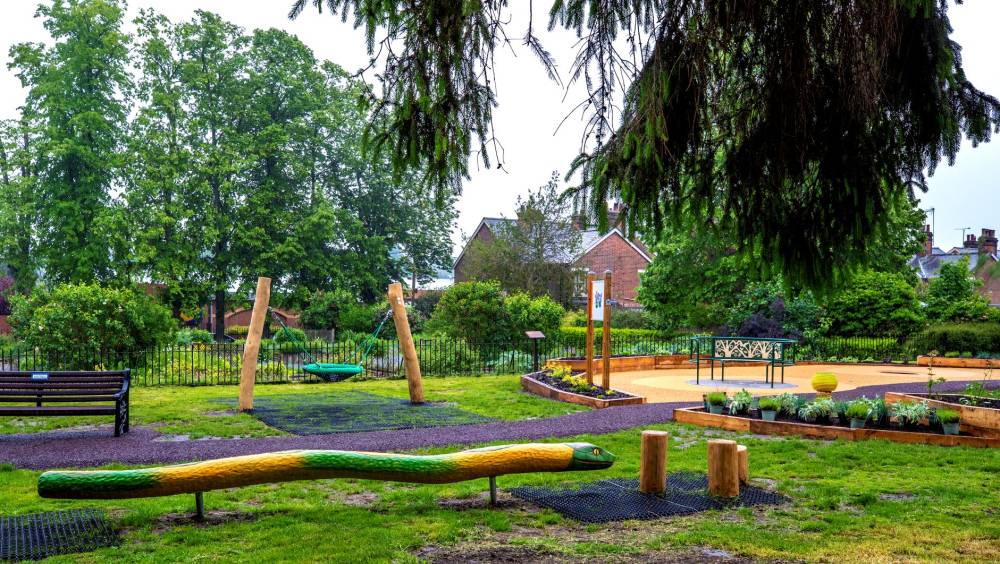 On Friday 4th June, a new inclusive play area was opened to the public by dignitaries from Braintree District Council, Halstead Town Council and Halstead in Bloom.
The underdeveloped parcel of land that has been improved is located in Halstead Public Gardens and was originally used as a picnic area. However the new design now offers an inclusive play park that focuses on the six senses of inclusive play - touch, smell, sound, sight, proprioception (awareness of self and joints) and vestibular (balance and equilibrium).
The project was jointly funded by Braintree District Council and Halstead in Bloom, who work in partnership to maintain the multi-award winning picturesque gardens that are popular with local residents and visitors alike.
All the equipment within the park is designed to use one or more of these senses and allows children of all abilities to play alongside each other. There is a roundabout and trampoline for wheelchair users as well as sensory planting and equipment along with a basket swing.
Braintree District Council consulted on the proposed design with Acorn Children's Centre, Barnardo's, Essex County Council, Play and Resources Centre (PARC) in Great Notley, Friends of Halstead Public Gardens, Halstead Town Council and Halstead in Bloom.
Councillor Wendy Schmitt, Cabinet Member for Environment said, "This is a fantastic project and I am proud that we have been a part of it. It was the perfect opportunity to install a fully inclusive play park so that children can play together safely. Previously, Halstead had no play provision for children with additional needs and after working with local disabled support groups, we felt that this is something that will benefit the community greatly."
Julia Smith, Secretary for Halstead in Bloom added: "The Halstead in Bloom team was thrilled to be able to bring this project to fruition. The area is now in keeping with the rest of the gardens and will allow more visitors to enjoy, relax and play. We are looking forward to seeing the smiles on families' and children's faces from the experiences the new play area equipment and sensory plants will bring."
Children from Halstead's Little Pickles Nursery came along to help embed some of the new plants and try out the new equipment. Despite the wet weather that day – rain did not stop play!