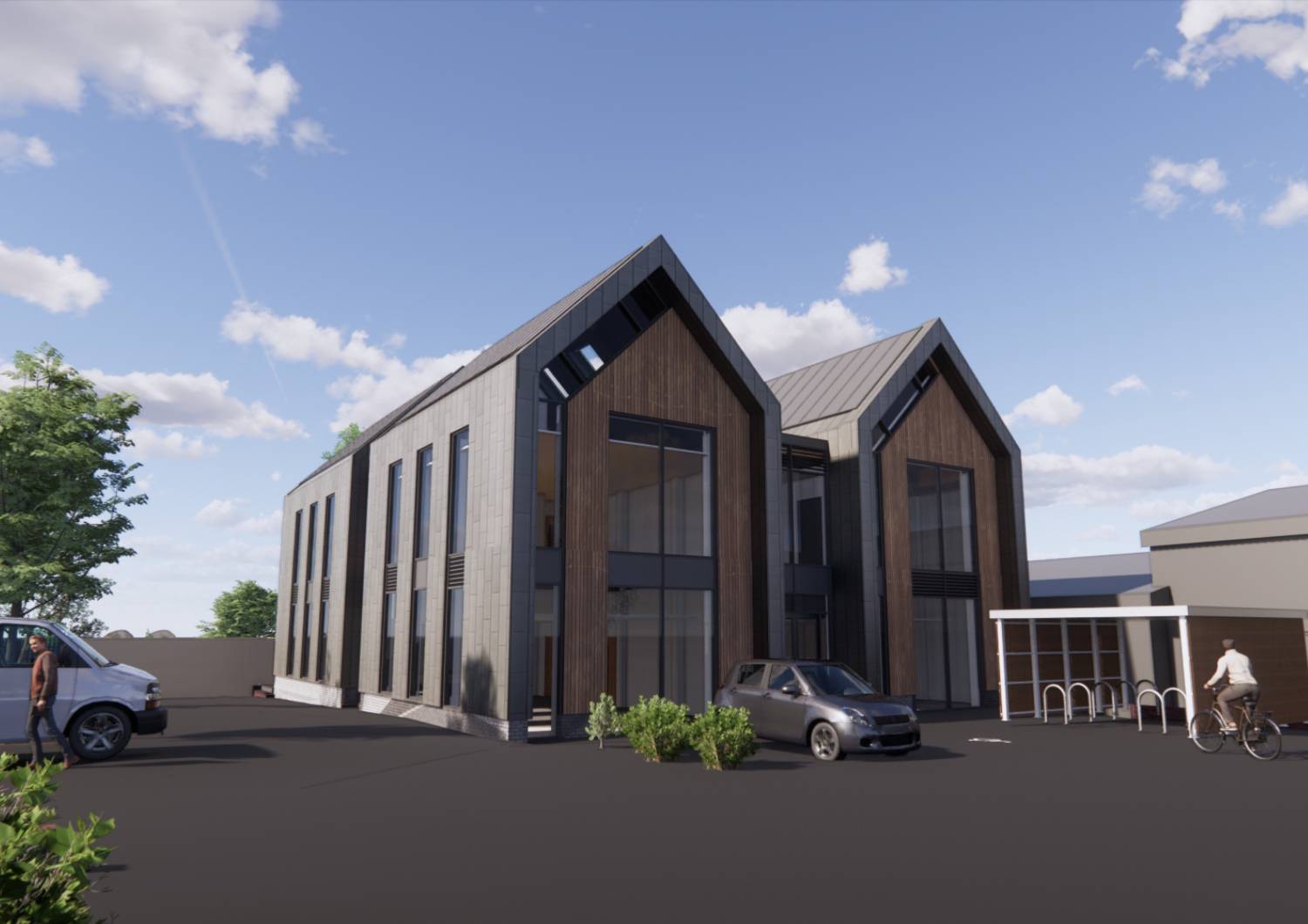 "Our investment into this innovative hub will stimulate jobs and opportunities in the construction sector as well as create the financial returns necessary to pay for our frontline services."
Building work is progressing well on the I-Construct hub - the £2.3 million centre of excellence for construction innovation, which will be based off Springwood Drive in Braintree.
The steel frame is complete and the building is taking shape. The external panels will be applied over the frame in the coming few weeks to insulate it and protect it from the weather. The 'structural insulated panels' are covered in either a zinc or timber effect finish. These panels have an extremely high insulation value and require minimal structural support.
The two-storey hub - consisting of workshop and demonstration spaces, a technology lab and conference facilities - will become home to a team offering one-on-one mentoring, grant funding* and support to small and medium sized firms connected to the construction industry.
The centre will in itself be an exceptional example of a modern, environmentally friendly building as it will benefit from innovative construction techniques and modern materials.
The hub's activities will be run by the Haven Gateway Partnership and will serve businesses in Essex, Kent and East Sussex.
The I-Construct project aims to support over 350 businesses, launch 150 new products and create up to 130 new jobs.
The hub is expected to open in the autumn.
Businesses interested in accessing the grant support available should visit www.i-construct.org.uk.
George Kieffer, Chairman of the Haven Gateway Partnership, said: "The construction industry is vital to our economy and quality of life and we have lost too many SME builders due to labour shortages, the financial crisis and a lack of access to new technology. We have been guided by industry leaders who fully recognise that it is time for the sector to modernise in order to survive. I-Construct will not only safeguard existing jobs in the construction industry, but it will also help create new jobs and solve some of the challenges facing businesses within that industry."
Anita Thornberry, Executive Director of the Haven Gateway Partnership, said: "With so much investment planned in construction, there are major opportunities for SMEs to use innovation and new technologies to compete. I-Construct gives practical support to companies as they develop and implement their innovation plans and through our network, we will help them build links with people who can help them achieve their ambitions."
Cllr John McKee, Cabinet Member for Corporate Transformation at Braintree District Council, said:"Our investment into this innovative hub will stimulate jobs and opportunities in the construction sector as well as create the financial returns necessary to pay for our frontline services. Our strategic investments are designed to make life better for residents - once by the investment itself and secondly by the return on investment."