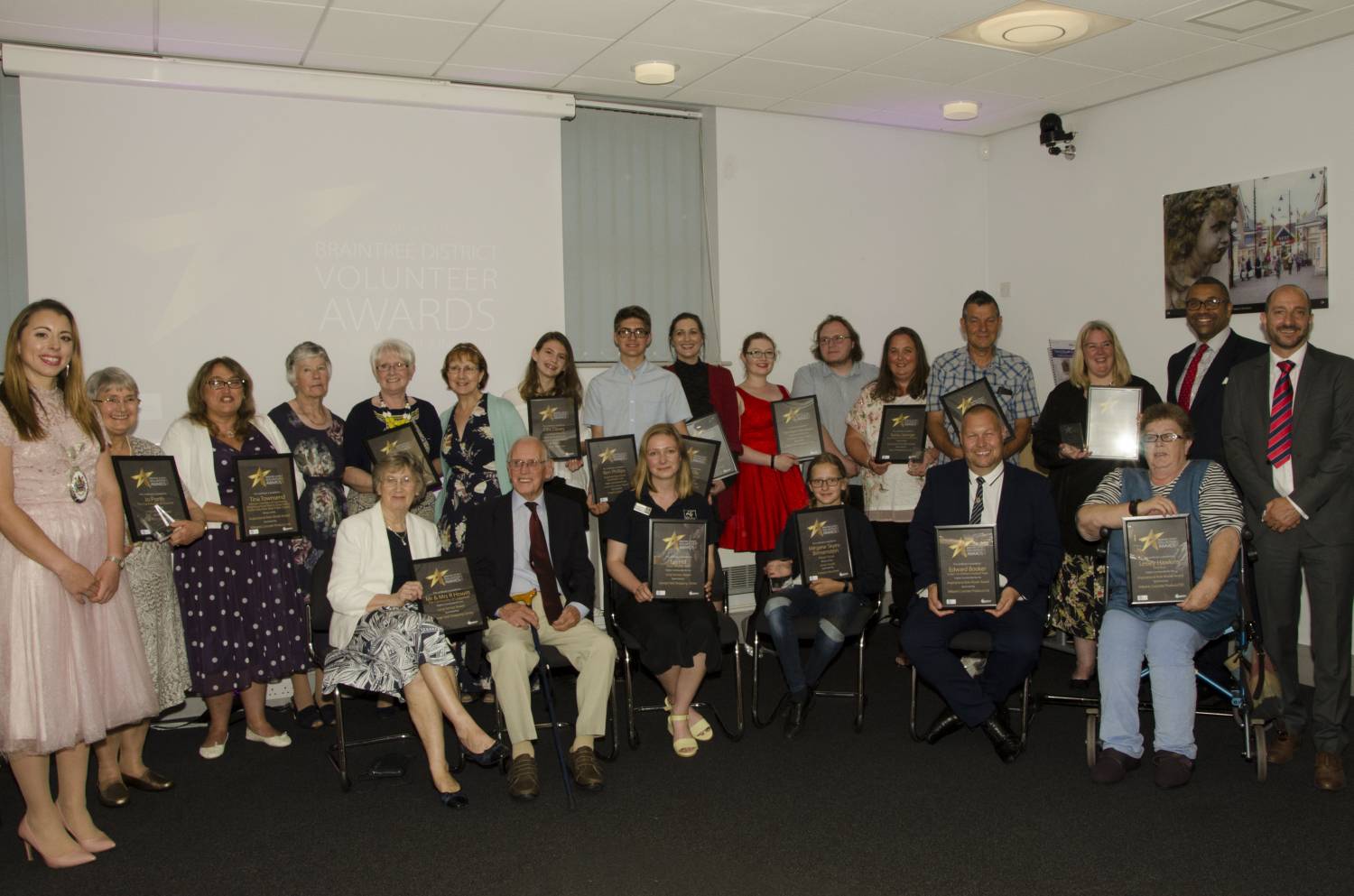 Nominations are now officially open for the Braintree District Volunteer Awards
The Awards celebrate the valuable contribution volunteers make to the district, whether it's through fundraising, running a sports club, looking after the environment, organising an event, or helping reduce loneliness.
Celebrating its third event, Braintree District Council, in partnership with Community360, are hosting the awards as part of National Volunteers Week (1st-7th June). The awards appreciate and reward the extraordinary individuals and groups who have made a positive difference to the lives of others in the district.
There are several awards up for grabs, and as a first for this year, to recognise the contribution made by young people in the district, you can now vote for a young person in each category.
Councillor Peter Tattersley, Cabinet Member for Health and Communities, said: "Volunteers are at the heart of our community and we want to thank them for all of the time and effort they put in for the benefit of others. The Awards are a chance to thank, celebrate and promote volunteering. Volunteering can make you feel great, giving you a sense of achievement and pride."
Tracy Rudling, Chief Executive Officer of Community360, said: "We are so proud of the volunteers we have supported in the Braintree district. The volunteer awards is a small way to show appreciation to those who offer their skills, energy, empathy and time to ensure we have a better connected community, and to thank volunteers for the ways in which they help to improve and change lives."
Residents can nominate now by filling out the form online at www.braintree.gov.uk/volunteerawards or by calling 01376 552525 to receive a paper version.
The closing date for receiving nomination forms is 5pm on Thursday 2nd May. Nominations will be considered by a panel of judges.
The winners will be invited to an award ceremony held at Braintree Arts Theatre on Thursday 6th June 2019.
Thank you to our sponsors George Yard Shopping Centre, Milbank, Greenfields Community Housing, and Freeport Braintree Outlet Shopping.
Award categories
Inspirational role model
Recognises volunteers who have made an exceptional contribution by inspiring others to achieve outstanding success, or who inspire with their achievements. They may have overcome adversity or difficulties and are shining examples to all of us.
Volunteer group award
Appreciating good teamwork and combined contribution by 3 or more volunteers. The group may have worked on an event or project in the Braintree District, have volunteered together or a significant period of time or achieved significant success in a specific subject.
Going the extra mile award
Acknowledges those who go above and beyond normal expectations in their volunteering role and who may have taken on one or more special initiatives to help others and the organisation.
Long service award
Awarded to volunteers who have shown exceptional long service to celebrate the effort and commitment they've shown over a number of years.