The designs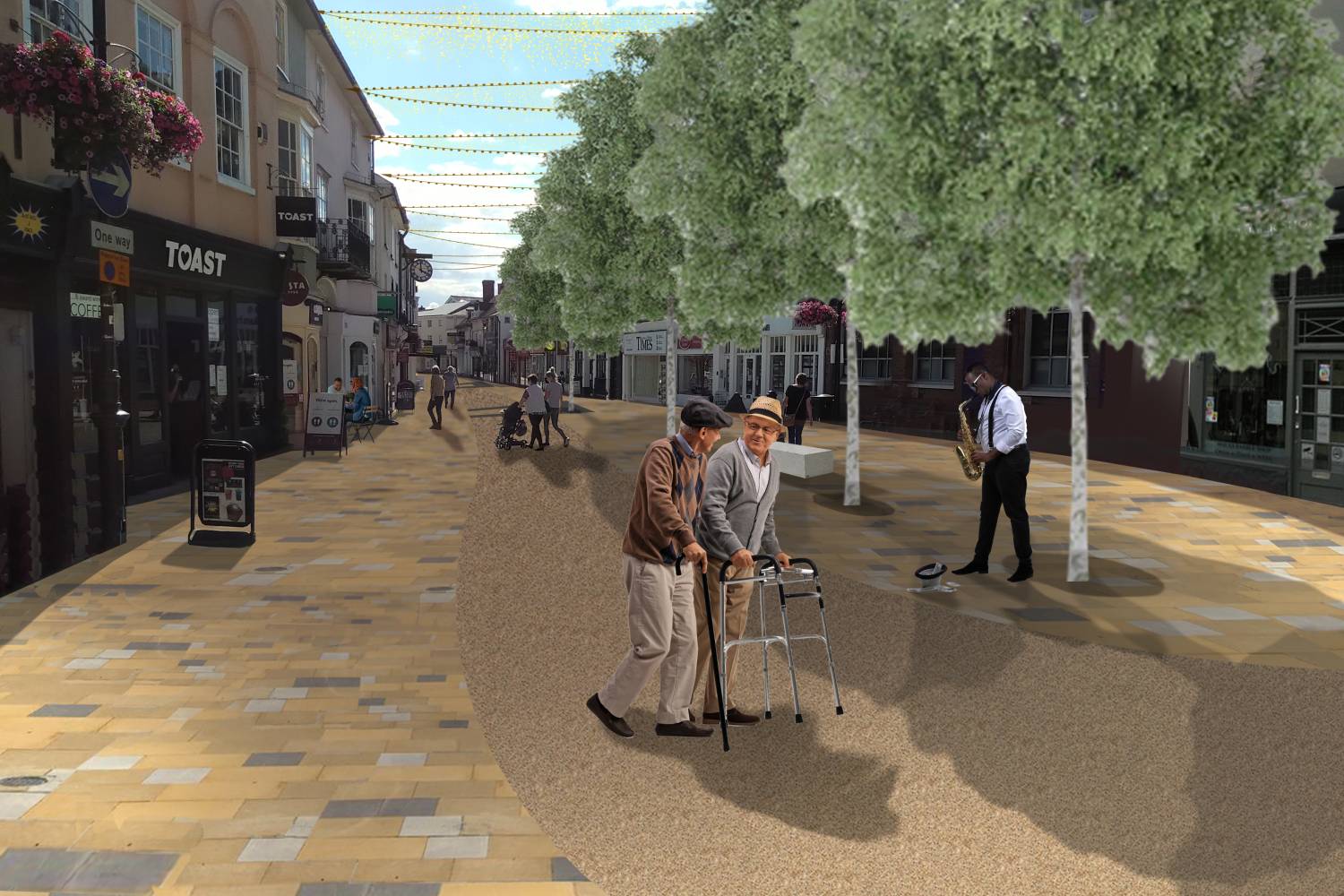 We have used feedback we received from local businesses and residents to help develop the designs.
Our bird's eye view plan shows the shape of the future town centre once pedestrianisation has completed.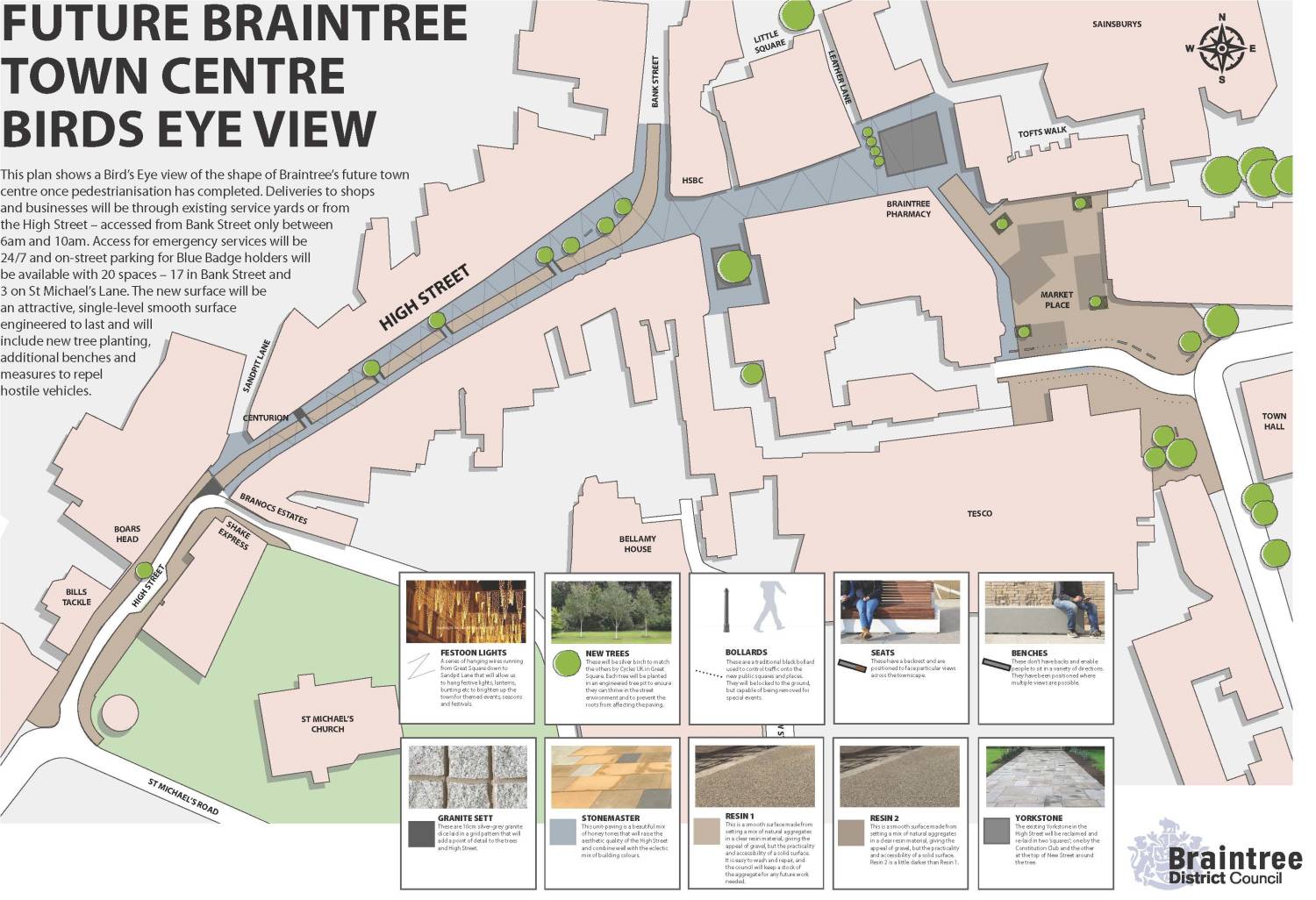 Deliveries
Deliveries to shops and businesses will be through existing service yards or from the High Street via Bank Street. Deliveries access will only be between 6am and 10am.
Access for emergency services will be 24/7.
There will be on-street parking for Blue Badge holders will be available with 20 spaces; 17 in Bank Street and 3 on St Micheals Lane.
Road surface
The new surface will be an attractive, single-level smooth surface engineered to last. It will include new tree planting, more benches and measures to repel hostile vehicles.
Paving
There will be new solid paving and a single level surface between the buildings on Market Place, Great Square, Bank Street and the High Street. We will enhance this with trees and several new seating areas.
We have chosen the new paving slabs to complement the colours of the historic buildings across the High Street. We will lay the paving slabs on a 50cm thick foundation that can stand up to large lorry loads. Not that there will be that many lorries, but this ensures the surface will remain in good condition for many years.
Our design team has blended three mixes of micro-pebbles which will be set solid in smooth-laid, clear resin to define and compliment the areas of the town with a modern, fresh look.
Other features
The design includes a wide range of the features people said they wanted to improve the town centre:
new lighting to the sides of market place to leave more space for markets and activities
CCTV to cover the pedestrianised area as well as extra under-ground ducting to future-proof the town. All the cameras in the town centre are being reviewed to assess performance and age. All faulty ones will be replaced
festive lighting fixing points to enhance the display options in the future
more cycle parking at the edges of the pedestrianised area (later stage)
There will be more electricity points to power a greater range of market stalls. This will stop trading vehicles from needing to run engines or generators, and allow events to happen in any part of the town centre.
Appearance
We have included some include some exciting design features to improve the appearance of the town centre.
Festoon Lights
A series of hanging wires running from Great square down to Sandpit Lane. This will allow us to hang festive lights, lanterns and bunting to brighten up the town for themed events, seasons and festivals.
New Trees
These will be silver birch to match the others by Cycles UK in Great Square. We will plant each tree in an engineered tree pit to ensure they can thrive in the street environment and to prevent the roots from affecting the pavement.
Bollards
These are traditional bollards used to control traffic onto the new public squares and places. We will lock them to the ground but we can remove them for special events.
Benches
Various seats and benches with and without backrests placed in and around the town, and we will position them to face particular views across the townscape.
Litter bins
We will be installing 15 new litter bins across the town centre as part of the scheme. This includes Market Place, Great Square, New Street, High Street and towards the fountain area of the High Street.
Granite Sett
These are 10cm silver-grey granite dice which we lay in a grid pattern that will add a point of detail to the trees and the High Street.
Stonemaster
This unit-paving is a beautiful mix of honey tones that will raise the aesthetic quality of the High Street and combine well with the eclectic mix of building colours.
Resin 1
This is a smooth surface made from setting a mix of natural aggregates in a clear resin material. It gives the appeal of gravel but the practicality and accessibility of a solid surface. It is easy to wash and repair, and we will keep stock of the aggregate for any future work needed.
Resin 2
This is a smooth surface made from setting a mix of natural aggregates in a clear resin material. It gives the appeal of gravel but the practicality and accessibility of a solid surface. Resin 2 is a little darker than Resin 1.
Yorkstone
We will reclaim the existing Yorkstone in the High Street to relay in two squares. One by the Constitution Club and the other at the top of New Street around the tree.
Keep up to date
You can email us if you have any questions about the pedestrianisation of Braintree town centre.
You can also get regular updates on news and progress on the scheme and the Victoria Square development by: