Timeline of work
We are now transforming Braintree town centre into a new safe, flexible and traffic-free space to encourage people to visit and use.
We have planned the construction works in phases that will be complete by August 2021.
As we progress through the town centre in a phased way this will mean that some elements of the town centre works will be completed much sooner. We are making considerable progress and many areas are now completed.
Phases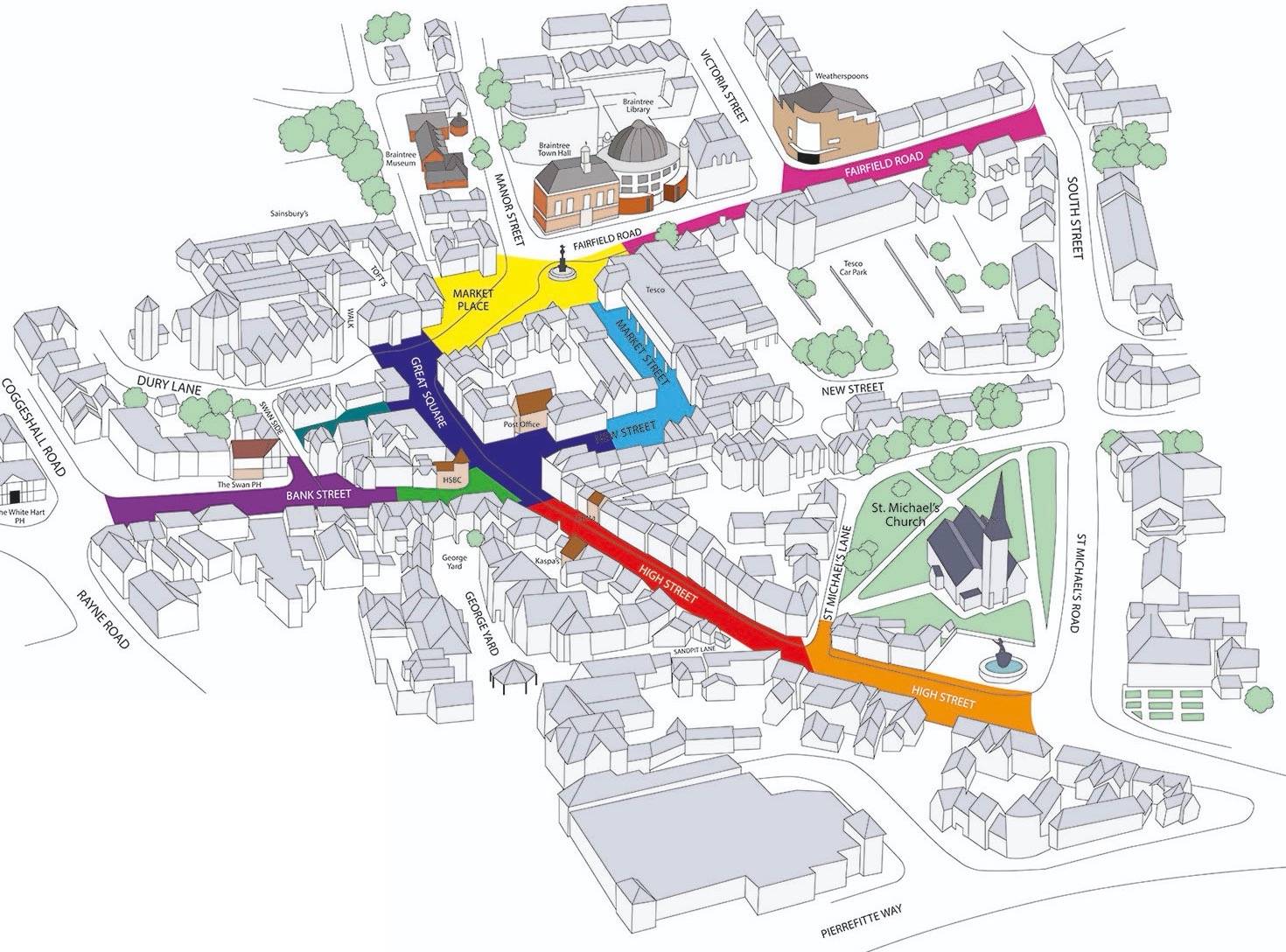 You can find below details of the latest upcoming construction work.
Town centre location

Construction work

Timings

Great Square

Remedial works from Sandpit Lane along High Street

Paving works are nearing completion from HSBC to Cycles UK and we are now preparing for laying the York Stone.

Paving to create a historic and high-quality public realm outside the Constitution Club.

Access to shops is being maintained, especially as we complete works up to the edge of each building.

From the British Heart Foundation to Sandpit Lane remedial works are required to the northern kerb line. This will require a new footway outside Baby Bakes, the new independent cake shop on the corner of Sandpit Lane, back down the High Street.



Estimated completion Friday 23rd July 2021.

Start from Monday 19th July – for two weeks and expected to be completed by the end of July

Market Place

Installation of tree pits, ready for trees to be planted during planting season in October or November.

This work has been re-scheduled to reduce impact or disruption during hot weather.

Service Road in Market Place


Installation of bollards

This work will not impact access to the service road whilst work is taking place.

We are preparing for installation of bollards during the current works. Some will be installed over the coming weeks. In some areas a special type of bollard is required and these need specialist manufacture and will arrive in the autumn.
Market Place (The Lounge and Fish Bar side and The Bull side)

The one level surface work including street lighting column foundations, ducting and tree pits has been completed.

Once UKPN, the local electricity company, has undertaken works in the coming weeks, we will be able to apply the resin.

Resin works outside shop frontages will be undertaken overnight and evening.

Date and timings to be confirmed but expect this to be late August/September.
We will keep this page updated with any changes to the construction work programme from the contractor.
COVID-19
We have considered the impact of COVID-19 on the project.
We know people want to follow government guidance on social distancing. We will look to provide the safest practical route for pedestrians to use whilst construction is taking place.
We will place advanced signage on-site before any upcoming work. You should follow the local signage, especially where there is less space during construction work.
We will be in regular contact with residents, businesses and stakeholders who may be directly affected by the work at various stages of the project.
We will also update these pages and our social media channels with news and information on the project.
Change to contractor
We have decided to complete the remaining stages of construction work via a new contract.
Progressing the town centre works in a phased way means we will be able to complete some elements soon after our new contractor starts on site.
Keep up to date
You can email us if you have any questions about the pedestrianisation of Braintree town centre.
You can also get regular updates on news and progress on the scheme and the Victoria Square development by: